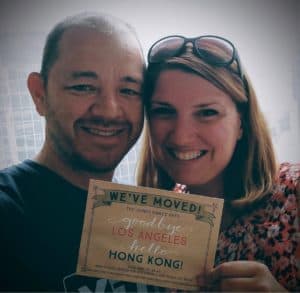 Brad and I moved from Los Angeles to Hong Kong one week before my 40th birthday. We were ready for a new adventure and keen to experience more of the world.
One month later I was diagnosed with Stage IVB non-small-cell lung cancer that had metastasized to my brain and eye along with multiple lymph nodes throughout my chest and neck quickly followed by my liver and abdomen.
The prognosis for lung cancer that's spread to the brain is not good. Average life expectancy with treatment is 6-8 months and the 5-year survival rate is less than 1%. That is, it rounds to zero.
I grieved. For a couple of days, anyway Then I started researching and decided that such a dire outcome didn't really apply to me. People do survive this and, if anyone can do it, I can. One thousand is 0% of one million.
Rocking cancer's face
This blog started as a way to keep friends and family updated on my progress and quickly evolved into a repository of the many tools I'm using to dominate cancer. Over the course of my journey I've encountered a lot of quackery and a lot of incredibly healing therapies.
Thanks to the miracle of TKI chemotherapy, stereotactic radiosurgery, fasting, a "mostly vegan keto" diet, yoga and meditation, I'm not only outliving my prognosis but feeling healthier and happier than I ever have. I'm still living with cancer but I'm living my best life.
More About Me