When some people first consider adopting a therapeutic ketogenic diet, their first feeling is often one of deprivation at the idea of giving up processed carbohydrates. Even when the diet is necessary to treat a medical condition, it can be hard to imagine giving up favorites like pizza, bagels and pasta.
The truth is, there are plenty of whole food, plant-based, low carb ways to satisfy just about any craving. And it won't be long before those craving disappear.
Pasta might just be the easiest comfort carb itch to scratch on a keto diet. In fact, discovered Miracle Noodle shirataki noodles almost a decade ago; it was a regular on the menu years before my diagnosis. I'm just incredibly grateful that they fit with my new whole foods, plant-based, ketogenic way of eating for cancer – and was especially thrilled when the company added an organic line.
Miracle Noodle recently expanded their product offering to include two other types of plant-based, low carb pasta substitutes: heart of palm and kanten pasta. I put them head to head against my house brand of organic spaghetti style to help you decide which is right for you.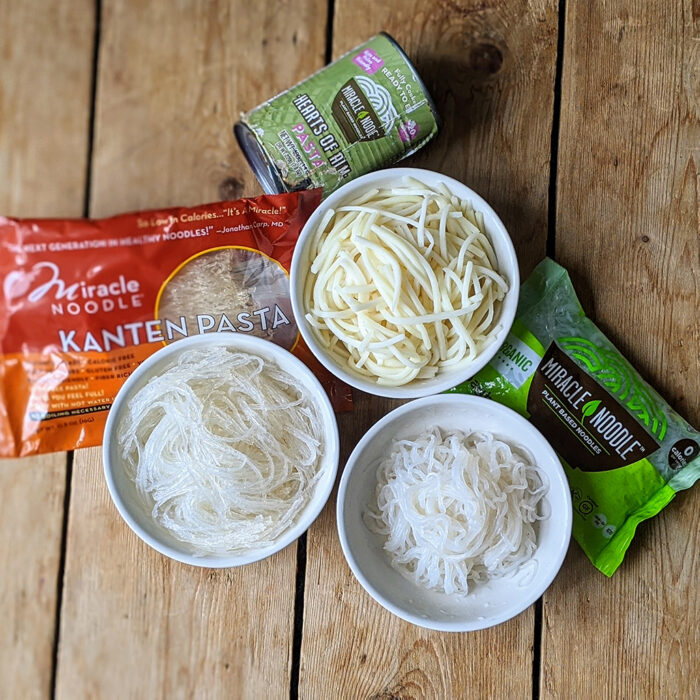 Feel free to skip to the section your interested in or straight to the summary:
---
Shirataki Konjac Noodles Review
The original miracle noodle, shiritaki noodles are made from the konjac yam. This yam has is a rich source of the soluble fiber glucomannan. Lots of people take glucomannan supplements supplements for it's blood sugar and cholesterol-lowering benefits.[1,2,3] Personally, I prefer getting it in the form of this delicious noodle.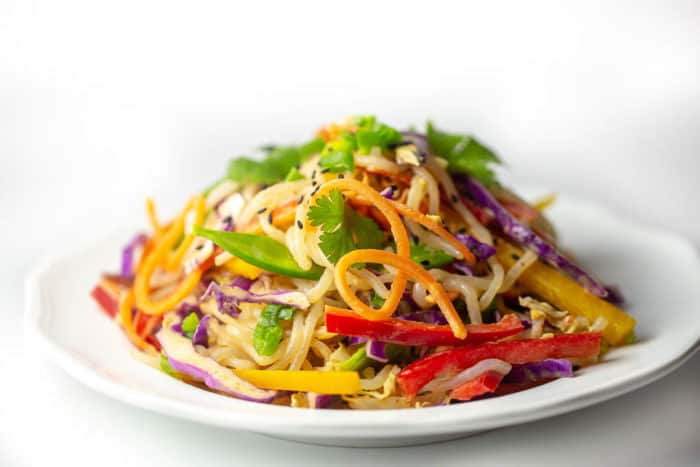 Shiritaki Konjac Noode Prepration:
Konjac noodles are usually packed in a fishy-smelling liquid that can be off-putting. Boiling them for a minute in hot water and then dry-frying will completely remove this odor and give them a texture closer to conventional noodles. I did this when I first started eating the noodles but these days I just give them a quick rinse in the strainer. They have a completely neutral flavor so absorb the taste of whatever sauce you use. It will depend on your personal taste how much prep these noodles need. You can read the complete guide to shiritaki noodles here.
Shiritaki Konjac Noodle Ingredients and Processing:
These noodles are minimally processed and contain just three ingredients: Water, konjac flour and calcium additive (old-fashioned pickling lime). The calcium additive is used as a shape stabilizer for the noodles and is completely natural. They come in many shapes (fettuccine, spaghetti, angel hair, rice, ziti) and different flavors (spinach, garlic and herb). I generally stick to the simple organic line and couldn't be happier.
---
Hearts of Palm Pasta Review
Hearts of Palm are the inner core of certain types of palm tree, often coconut. Harvesting the core usually results in the death of the tree. Sometimes these trees are from domesticated crops grown to be harvested, sometimes they can be trees found in the wild – it can often be difficult to trace the origins. While I usually consider "wild-caught" or "wild-foraged" a good thing, when it comes to heart of palm, domesticated (and organic) is best.
Heart of palm is relatively high in fiber and protein and a rich source of nutrients like calcium, potassium, iron, zinc, phosphorus, copper, magnesium, manganese, and Vitamins B2, B6, B9 and C.
Hearts of Palm Pasta Preparation:
I enjoy hearts of palm on rare occasion and this was my first time having them as a noodle. Preparation was as simple as could be: just open the can and drain. I found the texture closer to conventional noodles than the other low carb options I've sampled but with a faintly briny flavor that made them a perfect fit for pasta puttanesca.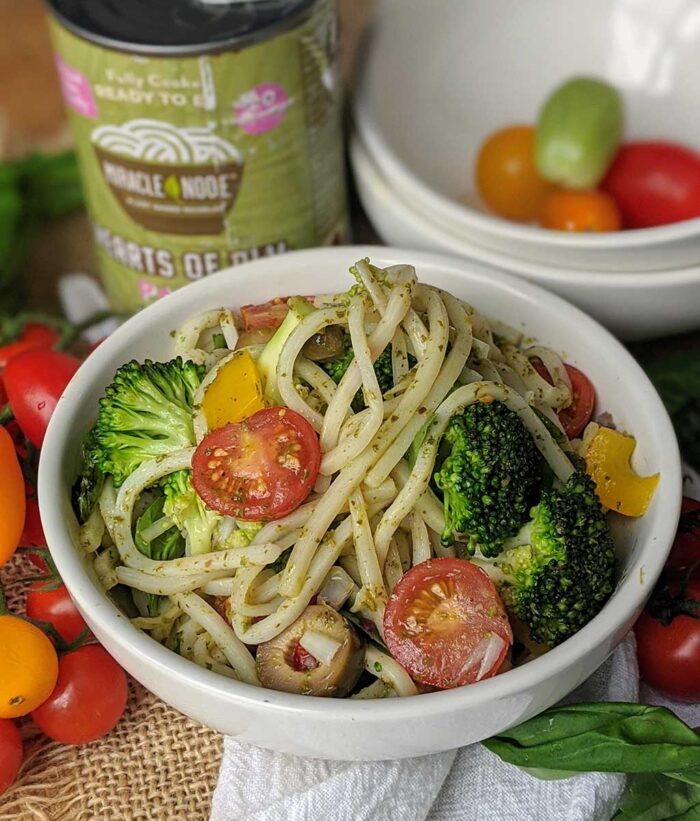 Hearts of Palm Pasta Ingredients and Processing:
There's no denying these are a processed food though the only ingredients are heart of palm, water, salt and citric acid. Though these noodles offer some protein, they also have the highest carb count of the group and likely won't end up on my shopping list.
---
Kanten Pasta Review
Kanten pasta is made from a sea vegetable known as tengusa, a type of agar. If you know me then you know I like to eat sea vegetables several times a week as they contain lots of vitamins and trace minerals such as iodine, iron, magnesium, calcium, and potassium. They are also a great source of antioxidants, detoxifying agents and alkalizing agents.
Kanten Noodle Pasta Ingredients and Processing:
These kanten pastas are minimally processed using traditional Japanese noodle dying processes taking 3-4 weeks per batch. The only ingredient is agar.
Kanten Noodle Pasta Preparation:
Unlike the other noodles that come packed in liquid that needs to be drained, these are dry (making them very light-weight for travel) and need to be reconstituted. The preparation is super simple: just soak them in hot water for a few minutes and drain.
Just be warned – agar is a known vegan thickener and gelatin substitute. Hence, if you leave them in hot water too long, they will dissolve, turning the water to jelly. I learned the hard way when I added the noodles to a soup that I left simmering on the stove for an hour. The noodles completely dissolved by the time we ate and, after we ate, the leftovers in the bottom of the pot had hardened to a disk of jello. I actually think is hints at excellent potential uses for these noodles (rice paper wrap substitutes?) but, if you just want noodles in your soup, be sure to add them right before eating.
---
Comparing Low Carb Pasta Alternatives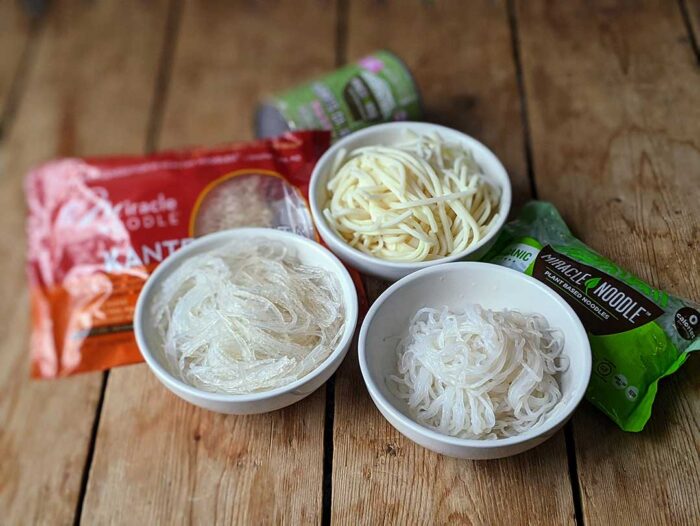 Shirataki Noodles
Heart of Palm Pasta
Kanten Pasta
Price and Packaging
Serving size
3 oz (85g)
2.6 oz (75g)
0.2 oz (8g)
Container size
7 oz with liquid
400g with liquid
0.5 oz (16g)
Container type
Bag with liquid
Can with liquid
Dry in Package
Serving per container
2
3
2
Price per container*
$3.80
$4.67
$8.66
Price per serving*
$1.90
$1.56
$4.33
Macro Information
Calories
<5
20
<5
Carbohydrates
1g
4g
6g
Fiber
1g
2g
6g
Net Carbs
0g
2g
0g
Protein
0g
1g
0g
Fat
0g
0g
0g
Experience
Preparation
Strain and parboil
Strain
Soak in hot water
Texture
Somewhat slick, rubbery, and chewy
Very much like overcooked pasta
Crisp to gel-ly depending on soak time
Flavor
Smells fishy out of the package but has no flavor of its own.
Faintly briny but overall neutral
Very neutral.
Organic version available?
Yes
No
N/A
*Using prices published on the miraclenoodle.com website July 2020
---
Other Low Carb Noodle Alternatives
Miracle noodles are often the most convenient choice, but there are lots of other nutritious, low carb pasta alternatives out there.
Zoodles (and coodles and boodles) as a low carb pasta alternative
Zoodles, or zucchini noodles, are a favorite of low carb dieters everywhere. They are easy to make, inexpensive, and have a texture that's a little closer to a conventional noodle than some of the options above. I love them because they offer so much nutrition. Why struggle to find a noodle replacement when you can just add more vegetables?
Zoodles are fast and easy to make with a spiralizer. I have a little compact spiralizer that worked in our tiny Hong Kong kitchen and has now been on the road with me for five months and counting. That's right, Brad and I live out of 4 suitcases between us, shuttling between Airbnbs and friends' houses, and this little piece of kitchen equipment has earned a place in those suitcases. I just realized this spiralizer has now made us delicious meals on three continents.
This is the exact model I have:
Zucchini aren't the only vegetables that can work as a noodle substitute. Depending on the flavors of the dish, butternut squash and cucumbers are also wonderful options. I prefer butternut squash noodles (boodles?) , sauteed with lots of salt, pepper and sage. Coodles from cooling cucumbers are best in pasta salad dishes.
Also, though they won't really pass as noodle substitutes, lots of other vegetables can be spiralized including carrots, daikon radish, potatoes, and yams.
Kelp Noodles as a low carb pasta alternative
As I mentioned above, I try to eat sea vegetables on the regular, and one of my favorite ways to do it is with kelp noodles. Kelp contains many of the same nutritious properties as the agar used in kanten noodles. While agar is made primarily from red algae, kelp is a type of brown algae. Eating both might provide a wider diversity of nutrients, who knows.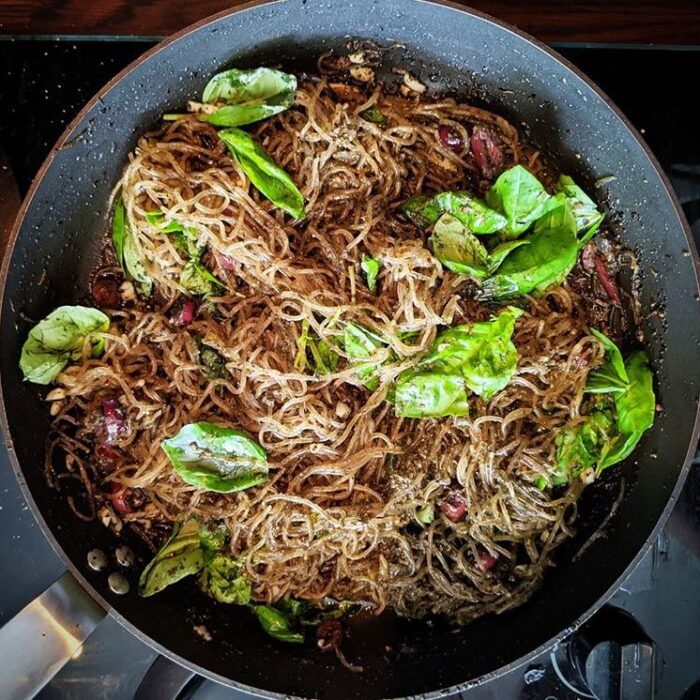 I find that, when prepared correctly, kelp noodles have a texture more like conventional spaghetti than any of the varieties above. Simply drain the packaging fluid and soak it in water with one to two teaspoons of baking soda for about 30 minutes. It won't dissolve as quickly as agar but will turn to gel if you let it soak overnight. It needs less than an hour to soften to a nice al dente texture for use in your favorite recipes. I love it simply tossed with healing herb pesto and vegetables.
These sea tangle noodles are my favorite brand: of kelp noodles:
Zeroodle Edamame and Mung Bean Noodles as a low carb pasta alternative
Of all the low carb noodle types above, these noodles made from beans are probably the most similar to traditional wheat pasta. Made from beans (mung, soy or black bean – although the mung bean variety isn't available at the time I'm writing this), these noodles are prepared in much the same way as pasta – a quick 4 minutes in vigorously boiling water.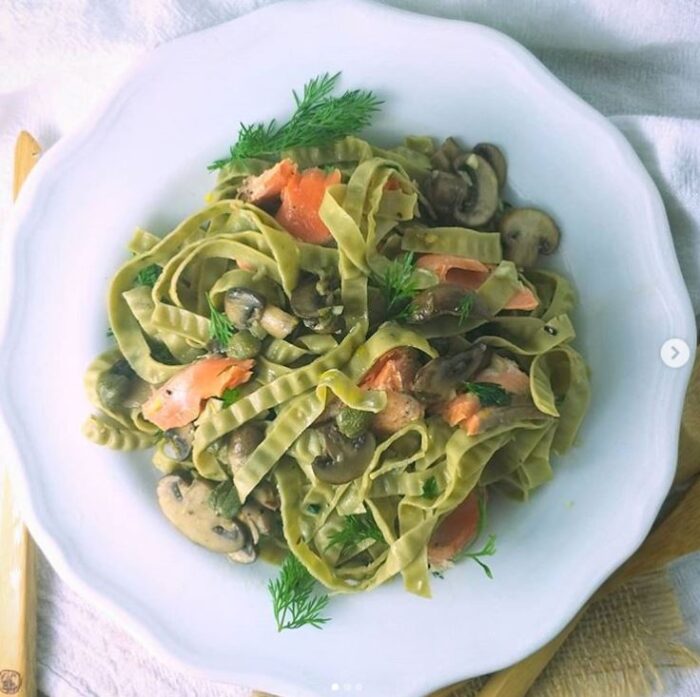 They are organic and minimally processed with the only ingredients being beans and water. Their organic labeling means the beans are non-GMO, too. They're high in protein with a whopping 21 grams per serving for only 3 net carbs (15g of fiber).
---
Final thoughts on low carb pasta substitutes
Obviously, there are tons of options here for minimally processed, plant-based and low carb pasta. The right one for you will depend on your individual tastes and priorities – and your favorite is likely to change over time. I started out loving the mung bean noodles as a treat because they were so similar to traditional noodles. Now I tend towards kelp and shiritake because I'm excited to take advantage of the nutrition and fiber. Ultimately, all these options just help to ensure a varied and exciting way of eating.