Friday I had my monthly blood test and the first meeting with my primary Hong Kong oncologist since the Seattle Cancer Care Alliance team found new activity in a previously treated brain tumor and a new brain lesion. SCCA has been super eager to move on it now testing for what they think may be leptomeningeal disease and targeting it with a third round of radiosurgery if possible. I decided instead to meditate on it in Thailand.
While nothing was resolved in this appointment, my blood tumor markers were still in the normal range which made me feel better than ever about my decision to take it slow. Even though these aren't definitive diagnostic markers, they tracked really closely with my last new brain mets. The big jump in the graph was when I had 2 new brain tumors but my body tumors were still steady.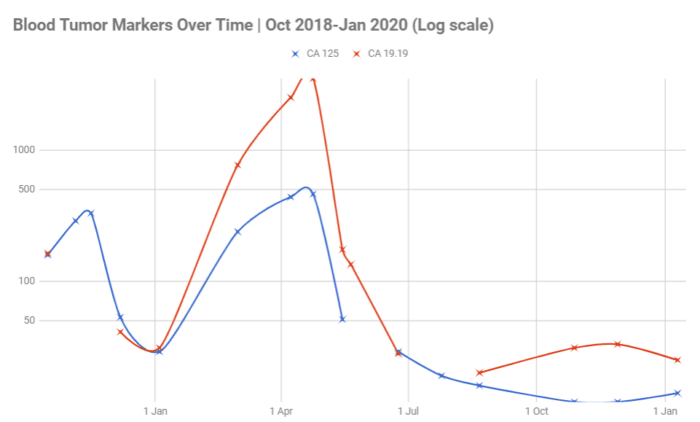 Anyway, HK oncologist agreed that we can watch and wait another month and has scheduled an MRI of brain and spine for February 20. I will probably stop in and consult with the Seattle team before then since I'll be in the US but, unless I have symptoms, I don't want to jump to any invasive treatment.
Here's my little decision tree.
Best case scenarios:
It's gone! All my meditation, visualization, clean living and lorlatinib means we'll never have this mystery solved.
Although the radiation oncologist says it's been too long, there's still a chance it's residual effects from previous radiosurgery. Pseudoprogression happens within 6 months. It's been 8 months but so what.
If it is a new tumor:
We know the new lesion is close to a previously treated tumor (also with new activity). Here are my options in order of preference (subject to change).
If it's further than 2mm from the previously treated site, I can target it for another round of SRS. 
If it's closer than 2mm I have lots of options:

Try to get my hands on entrectinib, another TKI like crizotinib and lorlatinib, that has been doing great in trials against ROS1+ cancers and is super close to being approved by the FDA [UPDATE: Now approved]
Try to get into the trial for TXA, another TKI developed by Jean Cui, the same chemist who developed crizotinib and lorlatinib, for which early results look good.
Immunotherapy – I'm a candidate based on my high PD-L1 markers and will eventually try this but its efficacy in the brain isn't as good as in the body
Good, old fashioned open-brain surgery
Good, old fashioned chemotherapy. 
If somehow we confirm it's LMD…
The most common treatment is chemo injections into the spine in the hopes of buying a few extra months. I'm not sure if I'd choose that option. Honestly, the fact that I've made it almost 4 weeks since the last MRI enjoying hot yoga and walks on the beach rather than falling into my death bed tells me it's not LMD.
For now, more focus on healing for me.