I spent three days on the road with less than a 12-hour turnaround in Austin and arrived home last night with a month's worth of lorlatinib. Victory!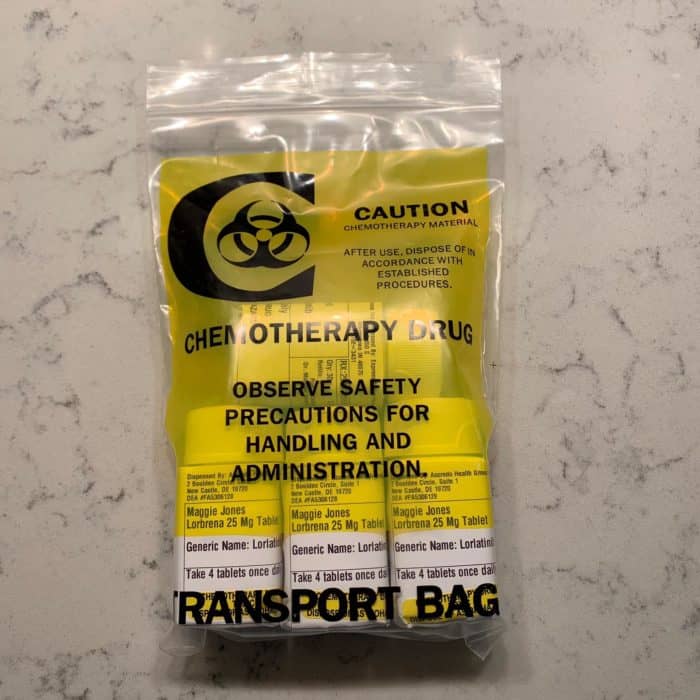 I took my last dose of Xalkori Tuesday morning and will start the lorlatinib (brand name Lorbrena) tomorrow morning.
Within a day of going off Xalkori my neck and shoulder tumors were larger and very, very achy; I had the feeling of being choked that I had before my diagnosis along with difficulty swallowing. It was an unwelcome reminder of how I felt six months ago and how far I've come. I'm sure the travel and lack of sleep contributed but it made me nervous and I spent a lot of time reading about disease flare that sometimes follows discontinuation of TKIs – some people will die within days of stopping. No worries, though, this all ends happily in the next paragraph.
Research has shown that fasting potentiates TKIs just like it does radiation and traditional chemo. I want to give lorlatinib the best possible shot and so had planned a water fast for the three days before and one day after starting the drug. Within 36 hours of fasting the achiness and choking feeling started to go away. A nap on the plane and a good night's sleep at home and I'm now feeling mostly back to normal. Fasting + sleep = magic.
Tomorrow morning I'll take my first dose of Lorbrena. In trials, "The overall response rate was 48%, with a complete response in 4% of patients. The estimated median duration of response was 12.5 months." I intend to be part of the 4% but will happily settle for being part of the 48%.