The credit for this recipe goes to Susan over at Rawmazing. Her blog is a treasure trove of delicious, raw vegan recipes that can easily be adapted to be keto-friendly. This particular tasty soup was born keto.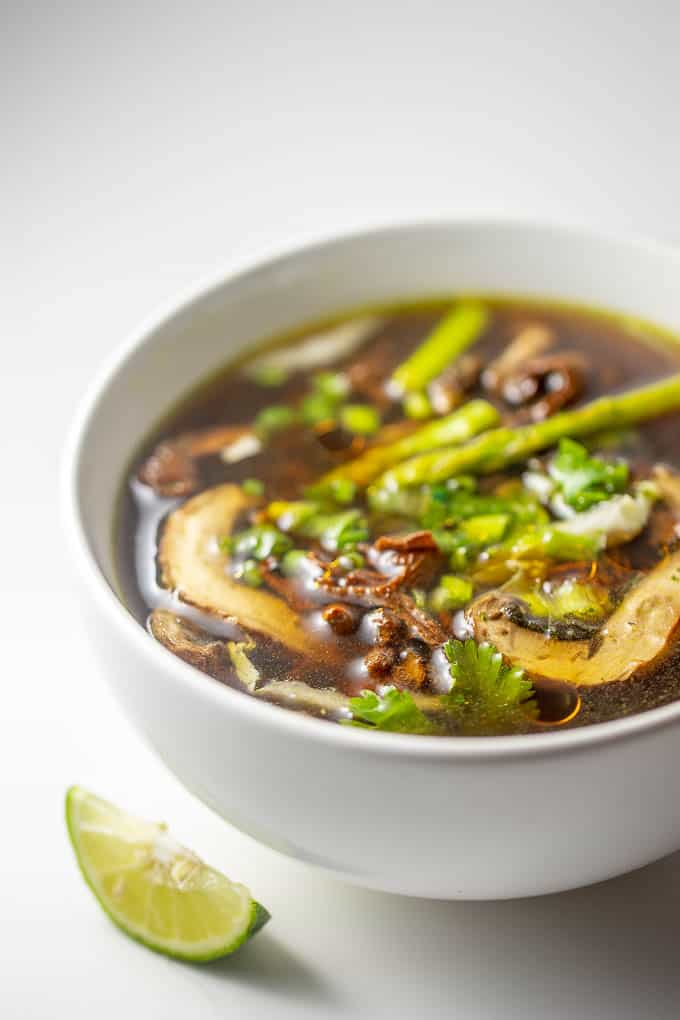 Mushrooms are revered in a lot of healing traditions for their medicinal properties – especially reishi, maitake, shiitake, and turkey tail – but all have anti-inflammatory properties via inhibition of NF-κB signaling, incorrect regulation of which has also been linked to cancer.
I generally prefer mushrooms cooked since heating removes the chemical hydrazine, a carcinogen, that is otherwise present in trace amounts. Raw vegans can follow the original recipe.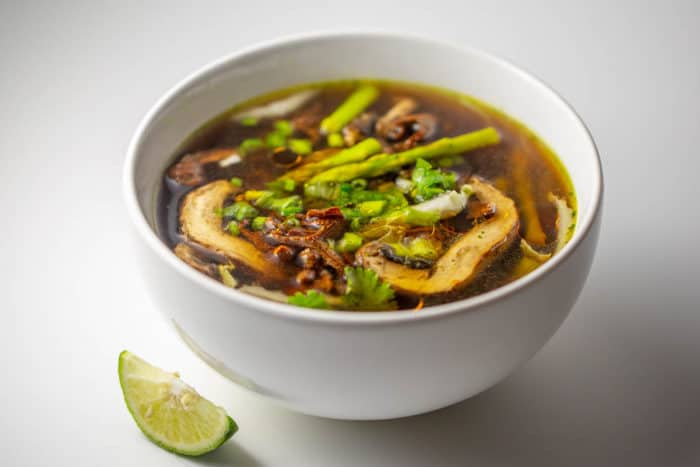 I added asparagus for a little extra nutritional punch – just a half cup of asparagus provides over a third if your recommended folate for the day – but add or remove whatever vegetables suit your mood and the contents of your fridge.
This soup is absolutely NOT real pho by any stretch of the imagination but it hits those notes if you have a craving and stands on its own as a super delicious, umami-packed dinner option.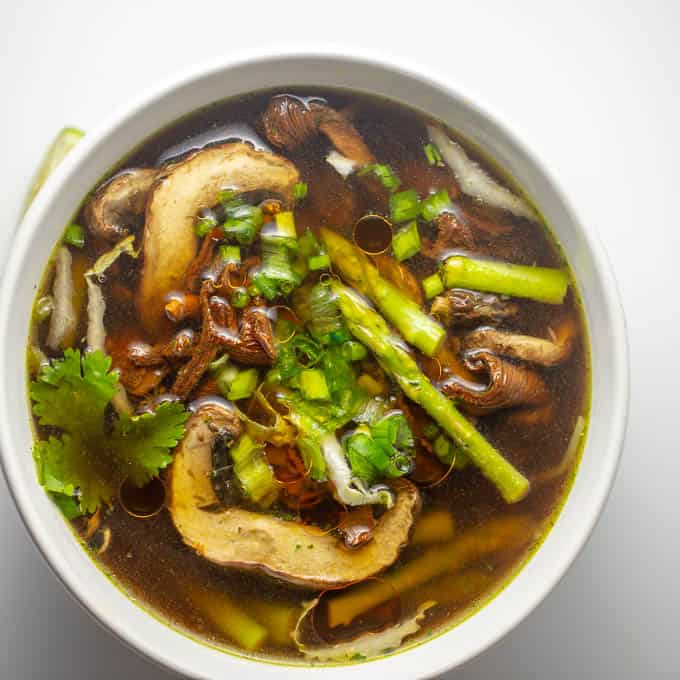 Macro Breakdown per serving (a serving is 1/2 the recipe)
195 Calories
Total Carbs 15g | Fiber 6g | Net carbs 9g | Protein 17g | Fat 6g
Always weigh and measure your own ingredients to ensure accurate tracking.
Ingredients
50 g dried mushrooms, assorted (I like a combo of shiitake, morelle, chanterelle)

4 c distilled water

100g fresh mushrooms (portobello, shiitake, maitake, etc), sliced

12 spears organic asparagus, trimmed and sliced into 2" batons

3 cloves garlic, minced

1 tbs fresh ginger, minced

2 tbs organic tamari

2 tsp organic toasted sesame oil

70g organic snow peas

200g bean sprouts

chopped green onion, cilantro, lime or additional sesame oil to garnish, as desired
Instructions
Soak the dried mushrooms in 2 cups boiling water for at least 2 hours or overnight.
Chop the reconstituted mushrooms and transfer them, along with the soaking water, to a saucepan. Add enough water to make 4 cups. Add fresh mushrooms and simmer over low heat until mushrooms are cooked through, about 8-10 minutes. Add the asparagus in the last minute of cooking to just warm through. Stir in raw garlic, ginger, tamari, and sesame oil.
Divide soup between two bowls and top each bowl with half the snow peas and bean sprouts.