This pretty cake uses tahini as the base and is sweetened with only organic lucuma and berries – although you can add the sweetener of your choice if you like it a little sweeter. Stevia, erythritol, maple syrup or dates could all be blended into filling or crust.
The filling is light and airy yet incredibly rich courtesy of the tahini. Yet not rich enough to stop me from eating the whole thing over two days. And then eating the replacement in another two days. Apparently I don't have enough self-control to keep this in the fridge but, it you do, you could also make it in little cupcake rounds or ice cube trays to keep frozen until you're ready to eat.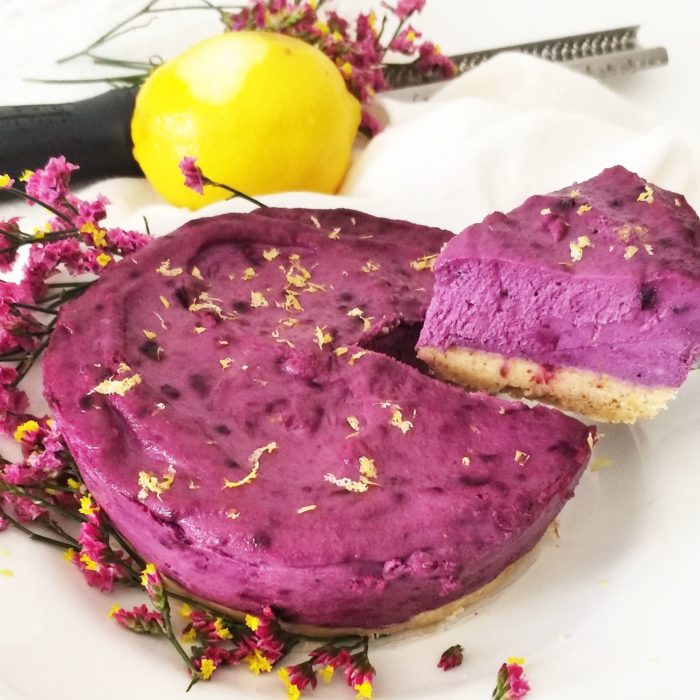 This recipe was born from my desire to 1) cut back on artificial sweeteners and 2) incorporate more lucuma into my diet. Lucuma is a known immune booster, antioxidant and anti inflammatory agent which proponents say can protect against cancer. Though the powder is made from the lucuma fruit, it's low GI and can fit in a keto diet.
I order from Karen Berrios, another cancer survivor who used nutrition to find healing and now dedicates herself to sourcing the highest quality organic superfoods for those taking a "food as medicine" approach to their own healing.
If you feel the same way about the products as I do, you can get a 20% discount on products and I'll make a (very small) commission if you order using code CANCERVME20. Thank you for supporting this ad-free site!
Ingredients
Crust

1 c pecans (can substitute any portion with walnuts)

1 tbs coconut oil

sweetener, if desired

Mousse

150g tahini

1/4 c lucucma

1 c mixed frozen berries (strawberries, raspberries, blackberries, blueberries and/ or blackcurrants)

1 tsp vanilla extract

juice of 1 lemon

1/4 tsp pink salt

3/4 cup purified water, more as needed
Instructions
Combine crust ingredients in a mini food processor and process until almost nut butter consistency. Press into the bottom of a 6" round dish and place in the fridge while you prepare the filling. Combine all filling ingredients in a high speed blender and blend until smooth and well combined. Add more water or tahini as needed to achieve a texture like a thick milkshake. The mousse will firm as it cools. Pour mousse over prepared crust and refrigerate 2-3 hours until firm. Run a knife around the edge to loosen from the dish and turn out onto a clean towel then place crust-down on a serving dish.  Garnish with lemon zest or powdered lucuma, as desired.