Crisp, refreshing cucumber noodles. Creamy sweet coconut butter. Crunchy, umami sesame seeds. Fresh lime. This salad has all the right flavors. Brad and I call it"key lime pie" salad and you'll understand why when you make it.
Refreshing with a sweet zing, this is a perfect salad when you want something fancy and light that doesn't take much effort. Most of the time here is spent spiralizing the noodles. If you don't have a spiralizer or don't want to bother, feel free to thinly slice the cucumber and it won't be any less delicious.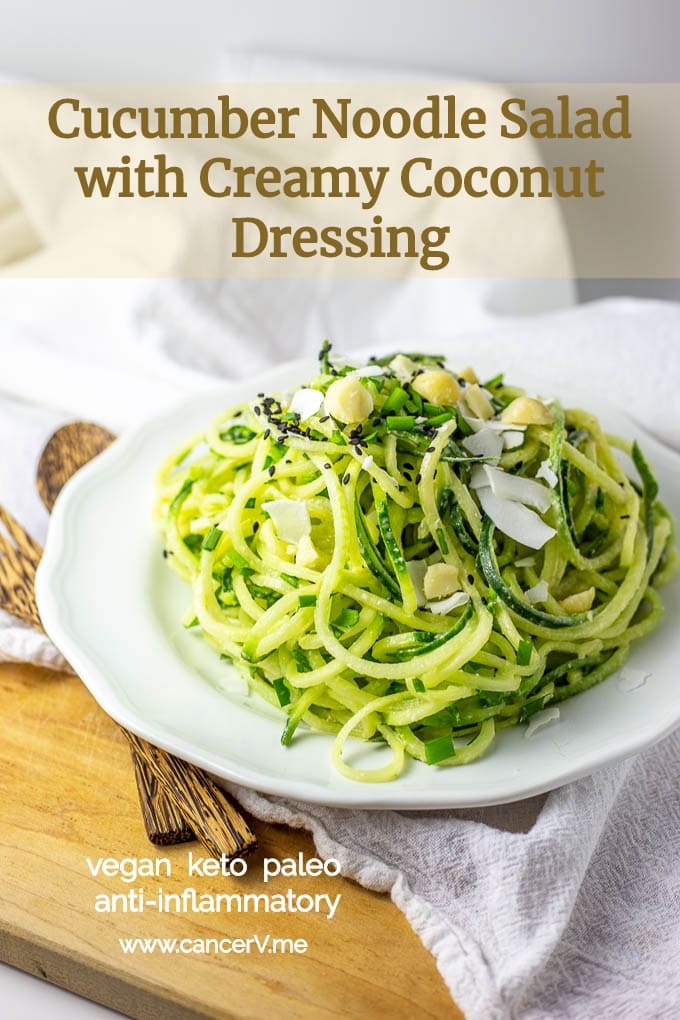 Coconut butter also goes by the name coconut manna, coconut creme or creamed coconut and it's one of my favorite treats. It's simply coconut meat that's been blended up with all the oils still intact. Even Brad, who isn't really a fan of coconut, likes it in this salad and a few other dishes.
Try to use a raw, organic coconut butter if you can. I use Edward & Son's organic creamed coconut because it's the least expensive option out here in Hong Kong but I can also vouch for Artisana raw coconut butter if you have the means. The most important thing is that the only ingredient is coconut. Some companies try to sneak in sugar or other additives.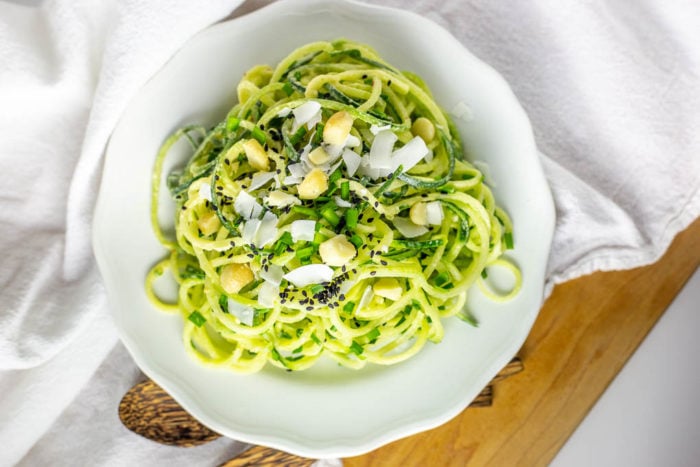 Once the cucumbers are cut, just blend together the dressing ingredients and you're all set. This salad really is that simple.
Feel free to mix up the mac nuts, sesame seeds, or scallions with your favorite salad toppings. I think pistachios, almonds, chia seeds or cilantro would all be great in this.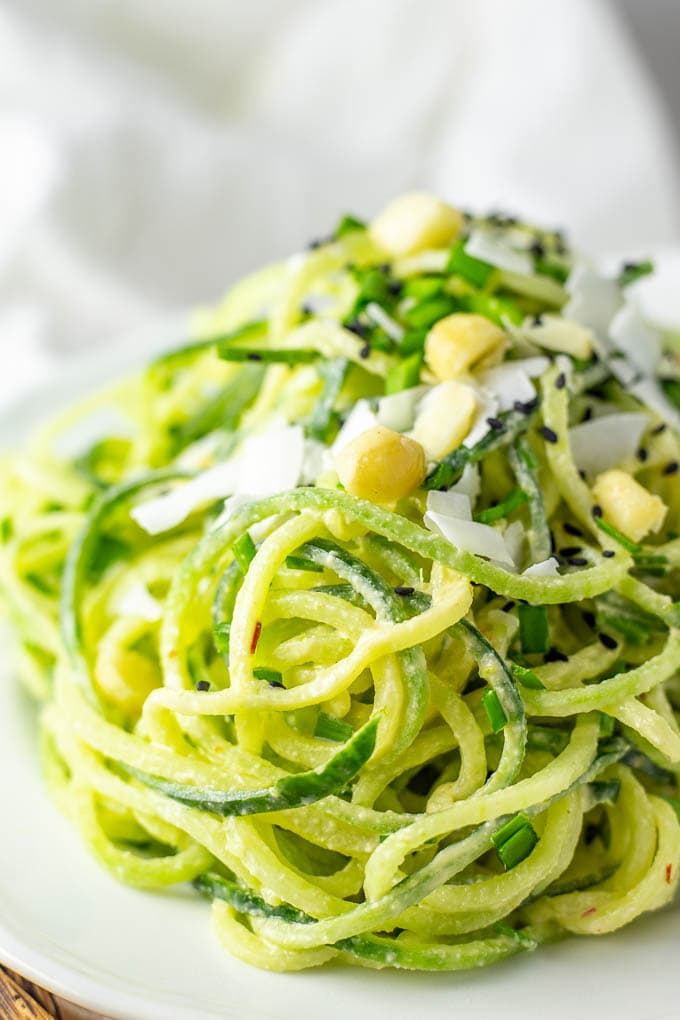 As always, weigh and measure your own ingredients for accurate macro counts. The carbs here represent net carbs or total carbohydrates (23.1g) minus fiber (10.7g).
Ingredients
Sauce

1/4 c coconut butter

1 small nub peeled ginger (about 15g)

1 clove garlic

1 limes, juice and zest from

1/2 teaspoons cumin

1/2 teaspoon raw chili garlic sauce, more or less to taste

1 pinch Himalayan pink salt, more or less to taste

distilled water or coconut water, as needed to thin

Salad

2 medium cucumbers, spiralized or thinly sliced (about 200g each)

1 tablespoons black sesame seeds

2 scallions, thinly sliced

1 oz macadamia nuts, coarsely chopped (about 28 g)

coconut flakes, as garnish (optional)
Instructions
Combine coconut butter, lime juice, lime zest, chili garlic sauce, ginger, garlic, cumin and salt in a mini food processor or high speed blender. Blend until smooth adding water as needed to thin to dressing consistency.
Toss sauce with noodles, sesame seeds, scallions and macadamia nuts. Divide into two servings and enjoy.