I've often made bold claims about my ability to survive on curry alone and in Thailand last December I had a chance to prove it. I had vegetable green curry for just about every meal – for the small remainder, I had a vegan variation on Tom Kha Gai. Zero regrets on both counts.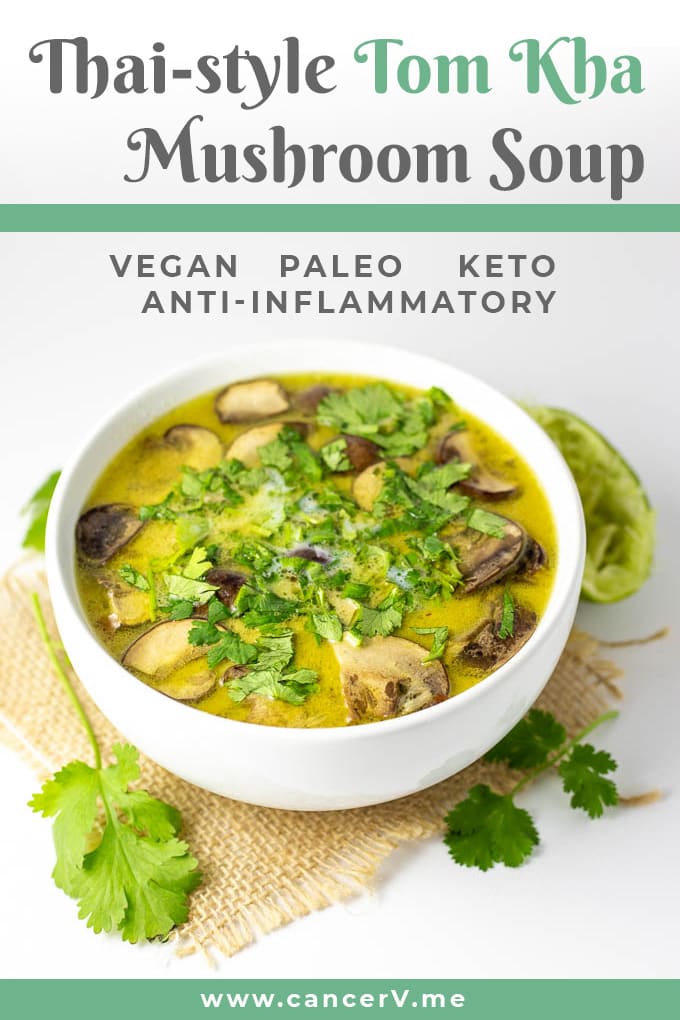 Tom Kha Gai is a Thai coconut soup with chicken. Here, we're swapping the "Gai" for medicinal mushrooms. You could also use tofu if that's your thing – or shrimp or any other vegetables that strike your fancy.
While I eat about 80% raw, there are some things that I prefer cooked: specifically tomatoes and mushrooms. Tomatoes because, although their vitamin C is reduced with cooking, their antioxidants are massively increased. Mushrooms because they contain small amounts of toxins, including some compounds that are considered carcinogens and because some claim that heating breaks down their tough cell walls making their unique nutritrients more available.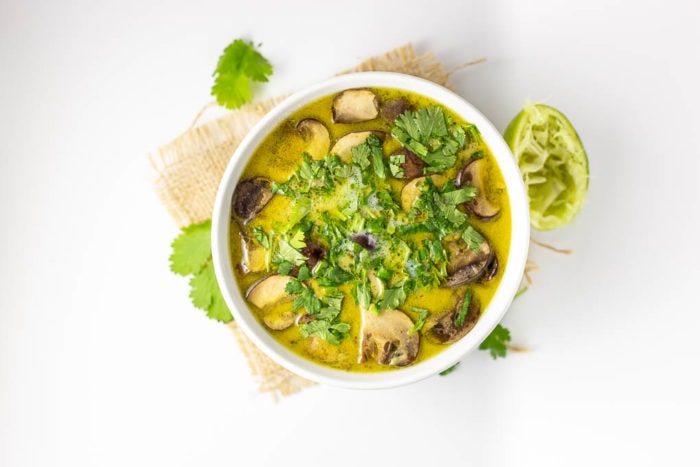 I'm super fortunate to live in Hong Kong where every market sells little Tom Kha kits with the aromatics, specifically lemongrass, galangal, shallots, kaffir lime leaves and a lime. I just set the lime aside, coarsely chop everything else, transfer the choppings to a nut bag, and toss it in the simmering broth.
You totally don't have to use a nut milk bag or cheesecloth for the aromatics. I just started doing it because picking the galangal and lemongrass out of our soup became too much of a chore. Feel free to throw everything directly into the pot if that's easier for you – it's how it was served in Thailand. This soup is all about keeping it simple.
Speaking of keeping it simple, if you can't get your hands on the exact ingredients, just use what you can find. Ginger can swap for galangal in a pinch and things like lemon basil would work for lemongrass. The final result may not be an exact "Tom Kha" but we're going for delicious, healing nutrition here, not authenticity.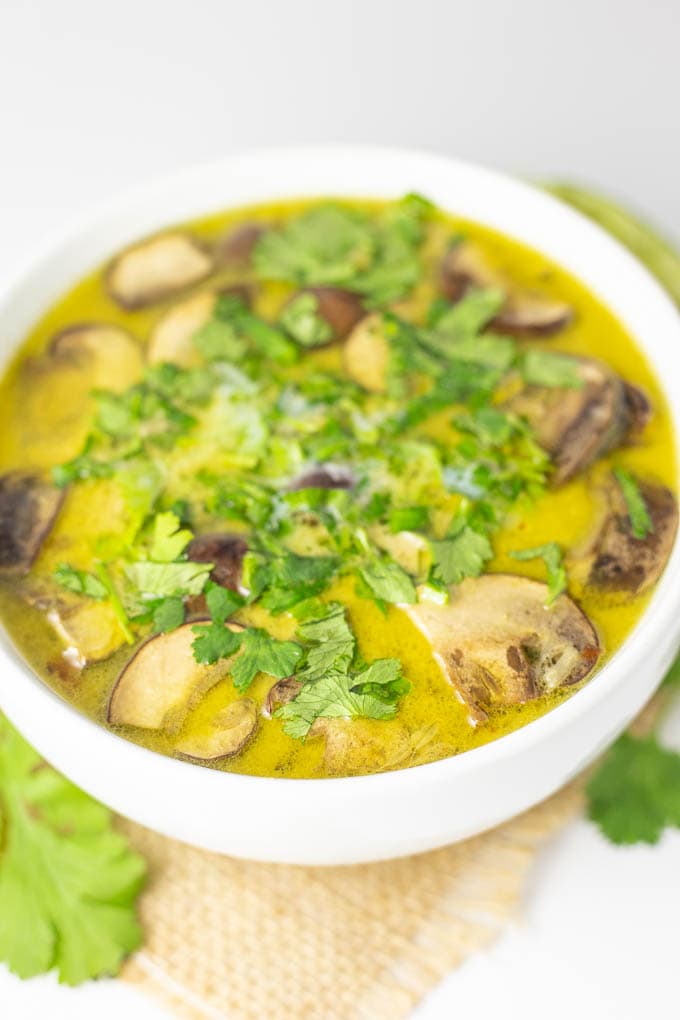 Ingredients
2 cups organic coconut milk

2 cups water or your favorite vegetable broth

1 thumb chunk of galangal

1 piece turmeric root

3 stalks of lemongrass

6 kaffir lime leaves

5-10 Thai chilies, more or fewer to taste

2-3 small shallots

1 small tomato

2 cups mushrooms (about 200g) (I like a combination of maitake, shiitake and portobello)

½ tsp salt, more or less to taste

1 lime, plus more for garnish, if desired

1/4 cup cilantro, plus more for garnish, if desired
Instructions
Combine coconut milk and water in a medium saucepan over medium-low heat. Slowly bring to a simmer.
Chop the ends off the galangal and then cut into slices. Coarsely slice the turmeric. Cut each lemongrass stalk into 3-4 pieces. Crush the lime leaves between the heels of your hand. Slice each of the Thai chilies in half. Place galangal, turmeric, lemongrass, lime leaves, and chilies into a nut bag and then into the broth or just throw them straight into the broth.
Peel and finely slice the shallots. Dice the tomato. Chop the mushrooms. Add shallots, tomatoes, and mushrooms to the pot.
Simmer until the mushrooms are tender, about 20 minutes.  Stir in salt and the juice of 1 lime.  Adjust seasoning to taste.
Divide the soup between two bowls and top each with half the cilantro, chopped. Enjoy!
Notes
400 Calories 18g Carbs 15g Net Carbs 4g Protein 42g Fat Always be sure to weigh, measure, and calculate your own ingredients for therapeutic ketosis.