These little morsels have changed my life.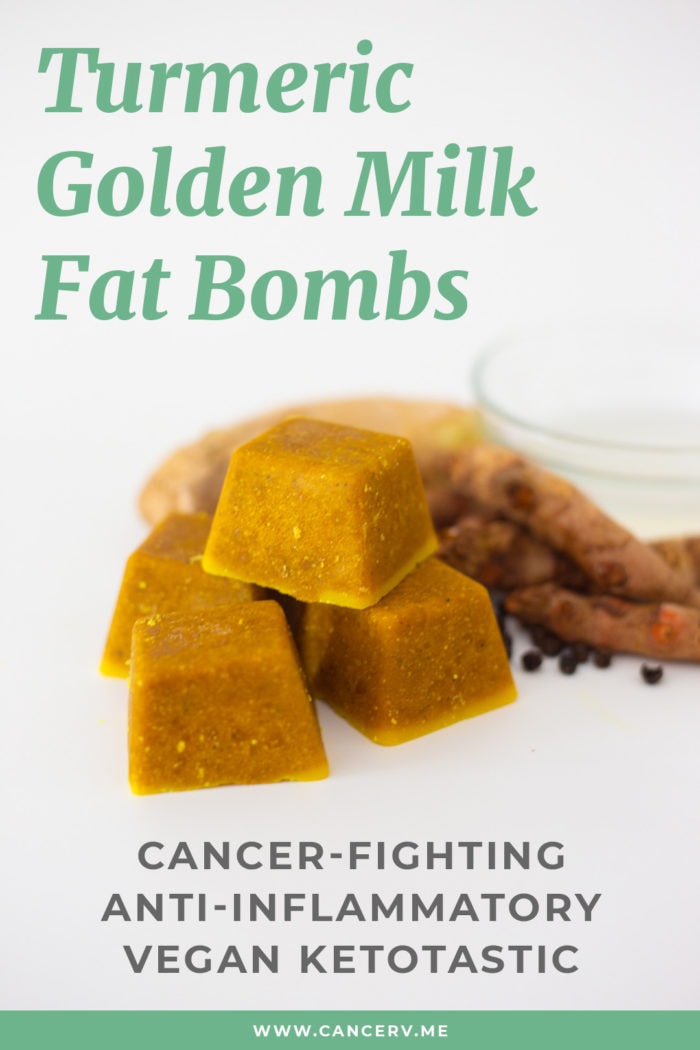 There are so many foods I want to eat in a day for their medicinal benefits but it's really hard to find the time. Curcumin-rich turmeric, cancer-fighter of legend, is at the top of the list of foods I want more of. It's also pretty high on the list of foods that take time to prepare since it needs to be eaten with black pepper and a fat for maximum bioavailability. I know I could take a supplement but I strongly believe in getting my nutrients from real food when possible. (Not gonna lie, I'm also a little concerned about how much processed vegetable cellulose I'm consuming in the form of my 40 or so capsules a day.)
I initially thought I could make nightly "Golden Milk," the traditional turmeric drink that's super hot on blogs right now, but even if I prepared the paste from which the milk is made each week in advance, the daily preparation is still more kitchen work than I'm down for after making dinner.
Earlier this week I was suddenly struck by a vision of condensing this golden milk into a small fat bomb I could just pop out of the freezer each night. Even better, it could serve as a tasty, portable vehicle for many other extracts and supplements.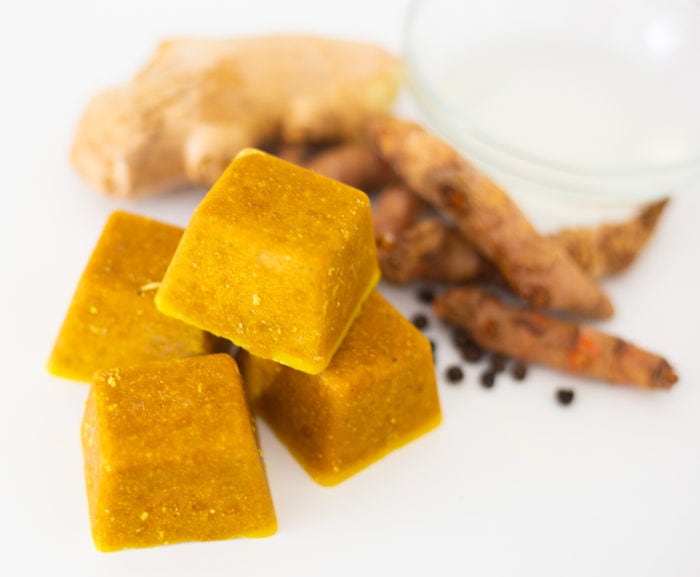 This idea worked out even better than I expected. The strong flavor of these heavily spiced, coconut-based, super keto fat bombs perfectly mask some of the less delicious but healing things I want to get in my body.
These little bites have made my life so much easier while increasing the cancer-fighting nutrition in my diet. The recipe here is for a basic turmeric "golden milk" fat bomb with a full gram of turmeric and less than two net carbs that you can stuff with whatever you like. I added L-lysine, Om reishi powder, ashwagandha powder, sea buckthorn oil, and turkey tail extract to this batch.
While different people have different metabolic reactions to different types of food, below are the results of my sensitivity test: negligible impact on blood sugar and positive impact on blood ketones and thus GKI. Keep in mind this was with all my crazy supplements added in addition to the recipe below. There was at least another gram of carbs in the version I tested and I still got these great results. This is truly medical grade food!
Blood
Glucose
Blood
Ketones
GKI
Pre-prandial (16 hours fasted control)
77
1.2
3.6
30-minutes post-prandial
75
1.3
3.2
1-hour post-prandial
78
1.6
2.7
2-hour post-prandial
70
1.8
2.2
Ingredients
20g peeled turmeric root, roughly chopped

20g peeled ginger root, roughly chopped

5g cinnamon

1g black pepper

1 tbs vanilla extract

310g coconut oil

220g coconut butter

sweetener of choice, to taste (optional)

additional supplements of your choosing (optional)
Instructions
Combine all ingredients in a food processor or blender. Add any additional supplements.
Blend until smooth. 
Divide the mixture between 20 ice cube tray wells or 20 2-ounce silicon moulds.  Enjoy the leftover 21st serving left behind in the blender with a spoon. Don't let any go to waste! 
Transfer to the freezer. Once solid, store in a freezer bag or jar.
Notes
Calories 199.7 kcal
Total Fat 21.7 g
Saturated Fat 19.9 g
Trans Fat 0 g
Cholesterol 0 mg
Sodium 4.2 m
Total Carbohydrate 3.4 g
Dietary Fiber 1.6 g
Net Carbs 1.8g
Sugars 0.7 g
Protein 0.7 g