I started my current way of eating Sunday, 21 October 2018. The first weekend after my diagnosis, Brad took me to Hong Kong's Gold Coast for a little staycation getaway. On the ride there I read my first cancer book, Kris Carr's Crazy Sexy Cancer Tips, in which she partly credits her vegan diet with her decade plus living with stage 4 cancer. Saturday at the pool I read Kelly Turner's Radical Remission which introduced me to fasting for cancer and related more stories of survivors who credited dietary changes with their survival – changes such as eliminating refined foods, sugar, meat, dairy; increasing vegetable intake; and switching to clean organic food and distilled water. I finished that book Sunday morning and started my first fast. I was excited that diet might make a difference and was one thing, at least, that was in my control.
Since then, I've worked to only eat healing, whole foods, treating food as medicine – in addition, of course, to my actual medicine. In less than a year I've gone from actively dying to truly thriving despite the tumors still in my lung, brain, liver, and over a dozen lymph nodes.
---
I've always been chubby. "Voluptuous" was my mom's version of "pleasantly plump." I've dieted and fought the scale since age 12. I know I ate better than most Americans – your standard "healthy" diet of whole grains, lean meats, lowfat dairy, etc. I was born and raised vegetarian and never started eating mammals. We cooked at home and I even had a healthy eating blog. I drank too many of my calories – a bottle of white wine a night, often – but I counted most of them in my calorie tracking apps whose data goes back over a decade. Still, the scale kept creeping up as I got older and I had pretty much accepted that this was just my body in middle age.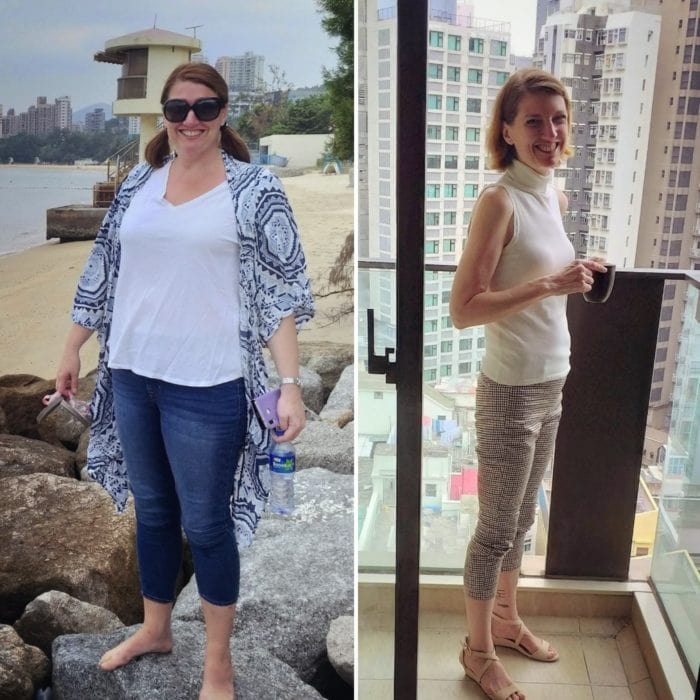 While weight loss wasn't ever a goal of my new way of eating, as a result of finally listening to my body – feeding it nutritious food with the right balance of macronutrients and giving it time to rest from that feeding – I lost over 50 pounds in 10 months. I now weigh less than I have since I was probably 11. Given my history with difficult weight loss, I initially attributed it to cachexia, the muscle wasting that kills so many cancer patients and figured I'd at least enjoy some fun shopping on my way to the grave.
Still, after the first 30 pounds in 3 months, I felt myself getting stronger and continued to listen to my body, even when it felt counterintuitive to limit protein and increase dietary fat. But by five months in I was confident beyond doubt that my weight loss was therapeutic, not pathological.
You know me and my need for sciency validation. Last week I scheduled a DXA body scan with the local university sports medicine clinic. I never told them about my diagnosis, just that I wanted to benchmark a new training regime.
DXA, or dual-energy X-ray absorptiometry, is one of the most accurate ways to measure body composition. They also gave me a comparison to the BIA scale which uses bioelectrical impedance. BIA had a more flattering analysis (20% body fat) but DXA (25% body fat) is the gold standard.
The results confirmed that my lean muscle mass is excellent. My body fat is low and an extra low percentage is stored as dangerous visceral fat. Also, my bone density is good.
The practitioner who did the scan and consultation had more compliments than advice. He suggested I focus on symmetry during my new training regime and noted that I must have a really good diet. I just smiled and yepped.
I've been devoting myself more and more to my practice of yoga and am incorporating more resistance training in general. This means some changes to my diet to make sure I can keep up my fasting schedule without any more weight loss. I do have a pocket of old fat on my belly in reserve. As much as I want to save some fat to fuel the cancer wars to come, I'm also keen to release this old stored fat while I'm healthy. Body fat stores environmental toxins and I'd like to metabolize and process whatever's locked in there before my meds do any more damage to my liver. I then intend to replace it with some nice, clean, fresh body fat to fuel my fasts moving forward. I've hired an amazing nutritionist I found through the Charlie Foundation to help in all of this but will save the details for another post. Ultimately, my body is still the boss and I'll continue to be tuned into and responsive to what I really need. It's guided me well so far.