I tend to save curry for special occasions but it's so easy to throw together it's also a go-to when we want something warm and comforting after a busy day.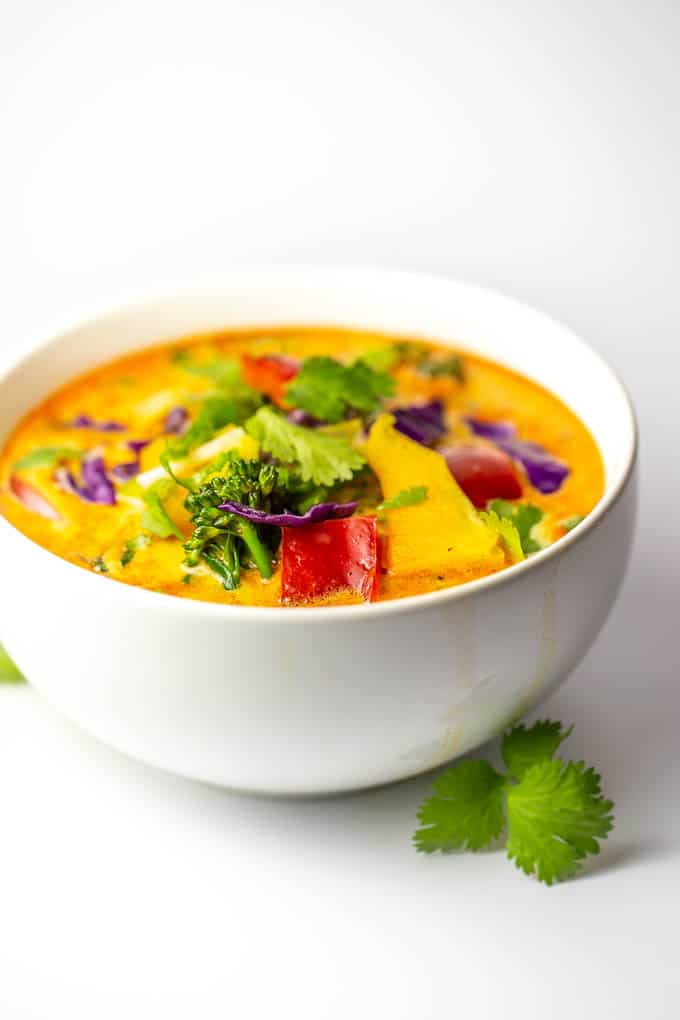 This recipe is much simpler than the curries I made before adopting this way of eating. It's curry stripped down to its essence.
I've done away with the fish sauce and sugar but the biggest difference may be the aromatics. Instead of sauteing onion and garlic before adding other ingredients I omit the onion to keep sugars low and add raw garlic at the end to maximize its potent immune-boosting properties.
Speaking of raw, these days I add the vegetables just before serving in order to retain as much of their nutritional value as possible. If you're not into raw, just simmer the curry for 10-15 minutes until the vegetables are as tender as you like. I do this when mushrooms are an ingredient as they're one of the few vegetables that seem to have better nutrition when cooked.
Of course, you should adapt this to use the vegetables that suit you. Here I combined red cabbage, cauliflower and broccoli – cruciferous vegetables bursting with health benefits – and just a little bell pepper for a treat.
We vary this with mushrooms, carrot, snow pea, broccolini, bok choy, kale, spinach, gai lan, radish, green beans and whatever else is handy. Add tofu or tempeh if you're looking for more protein or even chicken or shrimp. It's excellent served with riced cauliflower or organic Miracle Rice stirred in a minute or so before eating.
There are unlimited ways to enjoy curry. This recipe is just a template – or really a reminder that this insanely flavorful dish exists, waiting for that night you to have some spare produce and not much brain space.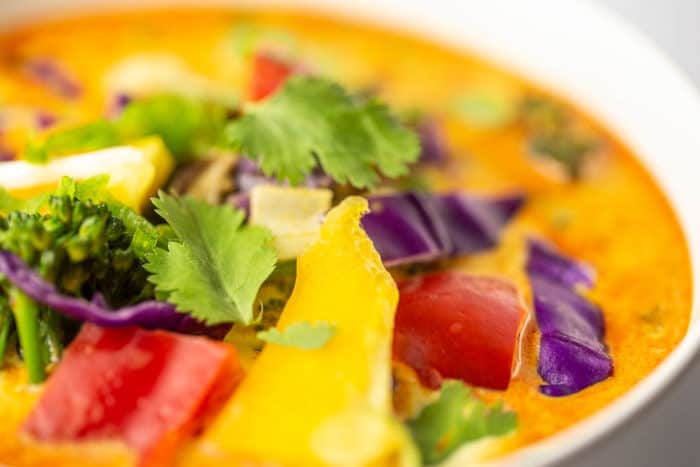 A Note on Curry Pastes
The right curry paste can of course make or break a curry – especially one as simple as this.
This is my go-to recipe for green curry. I make a big batch, freeze it in ice cube trays, and store the cubes in a baggie in the freezer. I often throw a cube or two into other curries and dishes to add flavor.
I once tried making my own red curry but after chopping the red peppers I spent the night crying with my hands in a bowl of iced milk. I'm too traumatized to try again with gloves.
This gal makes my all-time favorite curry paste when it comes to flavor and she ships to the US. I used to order several kilos worth every year and they'd come with the packaging torn apart by US Customs. Understandable.
Since I'm all organic now, I've been resorting to Mike's, which is available at Whole Foods, and another brand here in Hong Kong. Both are expensive and not to my tastes (I add lots of my green curry cubes). Be warned that Mike's red is really spicy even for us.
I just discovered Mekhala Living organic, vegan curry pastes and am excited to try them. I'm having some shipped to the US for pick-up next time I'm there.
Ingredients
1-3 tbs organic coconut oil

2-4 tbs of your favorite curry paste, more or less to taste (see note above)

1 can full-fat organic coconut milk (look for it in a non-BPA-lined can)

1 cup distilled water, more as needed

3-4 cups of your favorite veggies, chopped (see notes above)

2-4 cloves garlic, finely minced

chopped cilantro
Instructions
Heat coconut oil in a large skillet or brassier over medium heat and add curry paste. Cook, stirring, until fragrant.
Add coconut milk and water. Cook until beginning to simmer.
Add vegetables and garlic. Cook as long or as little as desired. Divide between 4 bowls and garnish with cilantro.