Caesar salad without the croutons is a classic vegetarian keto restaurant staple. The cheese and egg mean its off the menu for my way of eating, though.
This recipe captures everything I love about Caesar – including the crunch of the croutons – while pumping up the nutrition and eliminating the inflammatory dairy.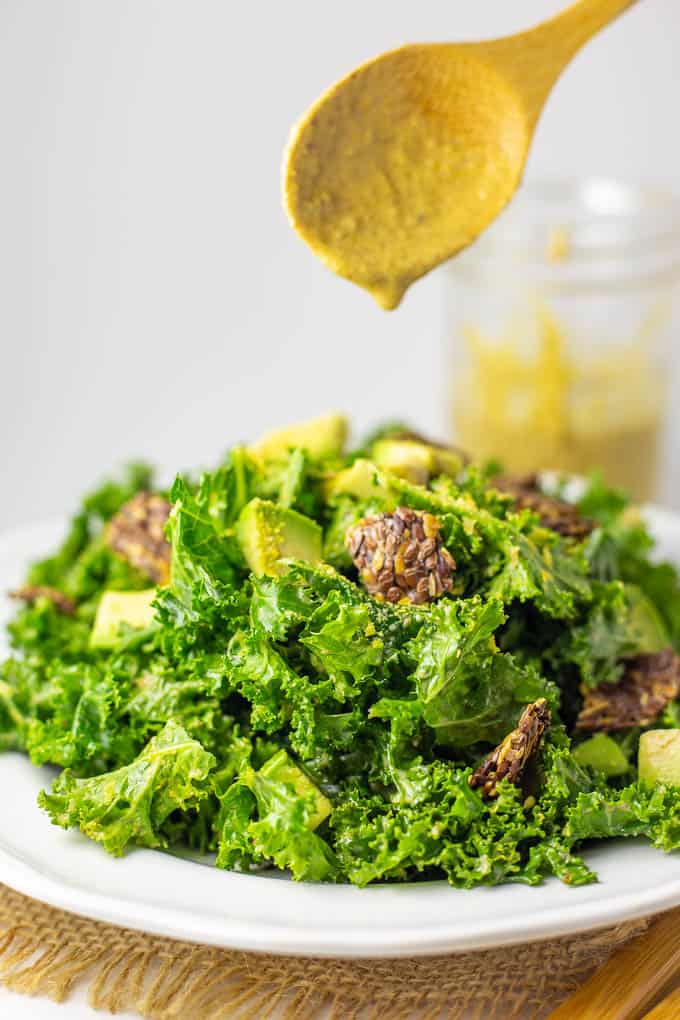 Olive oil, capers and garlic create a classic foundation and all have strong anti-cancer credentials. Nutritional yeast stands in for cheese while miso paste and dulse flakes contribute the fishy umami flavor that defines Caesar dressing. Tahini and lemon round things out with a creamy tang.
Feel free to adjust the proportions or even swap out ingredients based on your preference. This recipe is all about creating something delicious for you.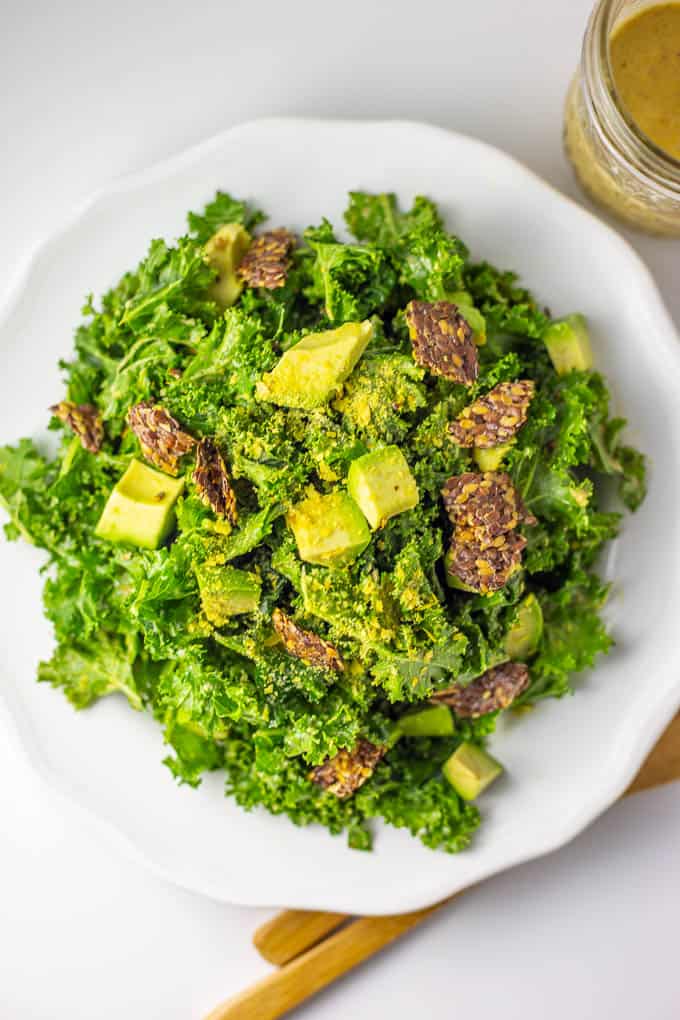 I've always prefered kale to romaine in my Caesars and the sturdiness of the leaf holds up well to this thick, creamy dressing. Massaging the dressing into the kale softens the texture and perks up the flavor. I don't even have to mention all the health benefits of this plant that checks both the "cruciferous vegetable" and "dark, leafy green" boxes.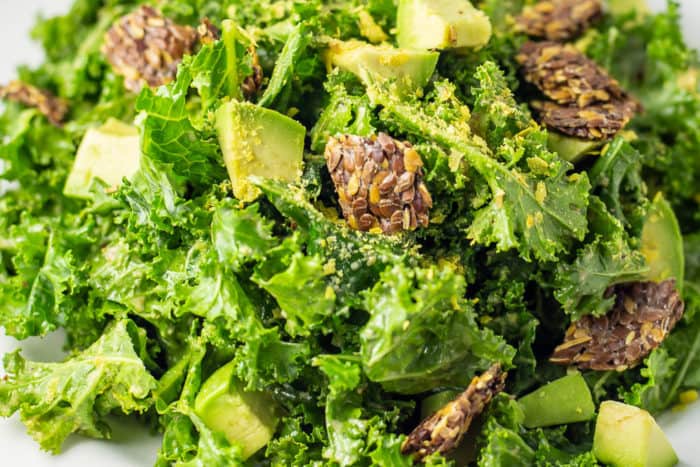 If you haven't discovered Flackers yet, they're a vegan keto miracle: organic flax seeds seasoned with organic apple cider vinegar and dehydrated into a crispy cracker with no net carbs. They give this salad a satisfying crunch. Plain flax seeds, pumpkin or sunflower seeds would also work nicely. Just don't forget the avocado. Or try adding a tablespoon or two of fried capers – they're powerful antioxidants.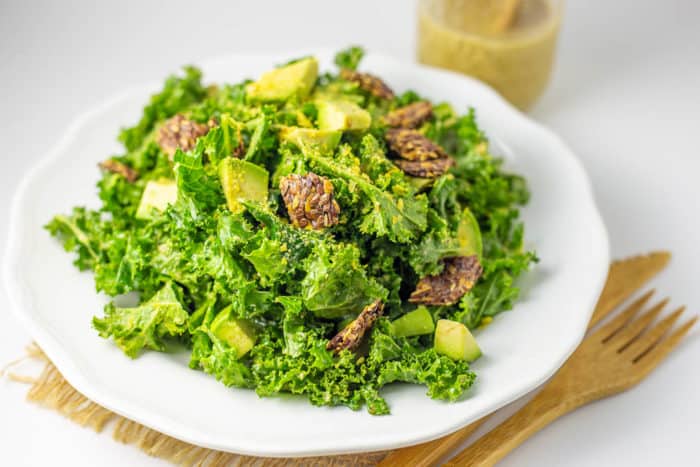 Whatever twist you put on this salad to make it yours, I hope it becomes a go-to recipe when you're craving the familiar flavors of a Caesar.
Macro Breakdown per serving (a serving is 1/2 the recipe)
401 Calories
Total Carbs 20g | Fiber 13g | Net carbs 7g | Protein 19g | Fat 68g
Always weigh and measure your own ingredients to ensure accurate tracking.
Ingredients
Dressing

juice from one lemon (about 2 tbs)

zest from one organic lemon (about 1 tsp)

2 tbs capers

2 tbs nutritional yeast

1 tbs organic tahini

2 tsp organic miso

3 garlic cloves

1/2 tsp ground cumin

1 pinch dulse flakes (optional, to taste)

2 tbs organic, extra virgin olive oil

Salad

150g organic kale

1 large avocado, diced

10 flackers (or substitute nuts or seeds of your choice)

additional nutritional yeast (optional)
Instructions
Prepare dressing by combining all ingredients except olive oil in a small food processor and blend until smooth. Stir in olive oil. (Blending the olive oil can often cause it to become bitter.)
Wash the kale, remove tough stems and tear the leaves into smaller pieces. Using your clean hands, massage the dressing into the kale for a few minutes, until the leaves are brighter green and slightly softer.
Divide the dressed leaves between two bowls and top each with half the avocado, half the crumbled crackers, and a sprinkle of yeast, if desired.