I finally broke down and got a spiralizer – which is crazy considering how tiny our kitchen is – but my only regret is not getting one sooner.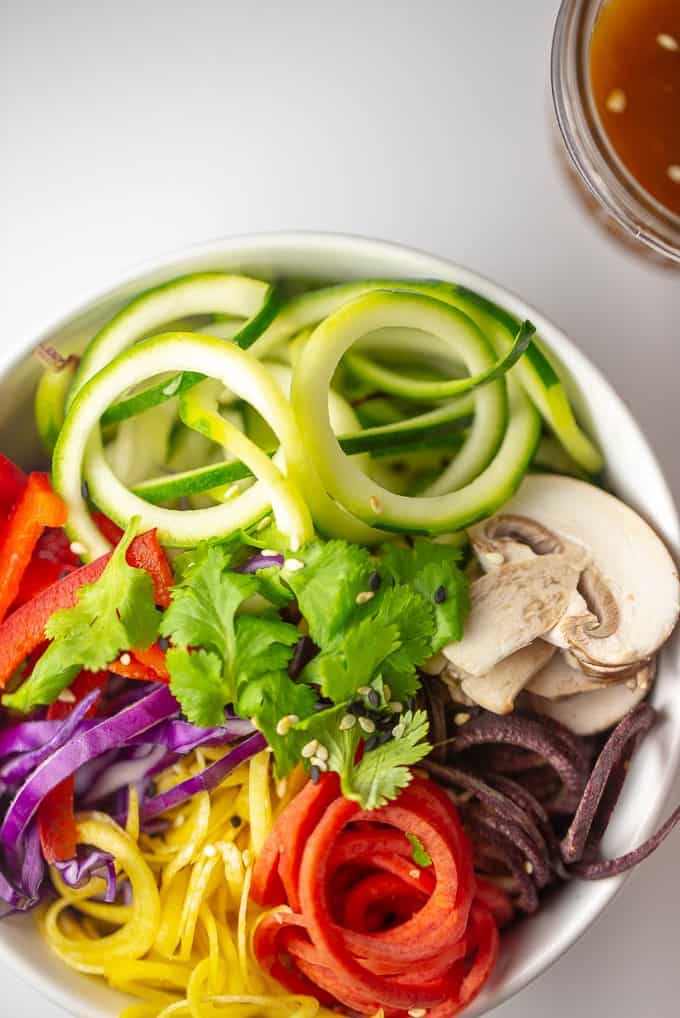 It really is easier to set up, clean and store than I expected and it makes for more fun salads. I purchased this one off of Amazon [affiliate link] and couldn't be happier.
If you don't have a spiralizer, just thinly slice the vegetables and this salad will be just as tasty.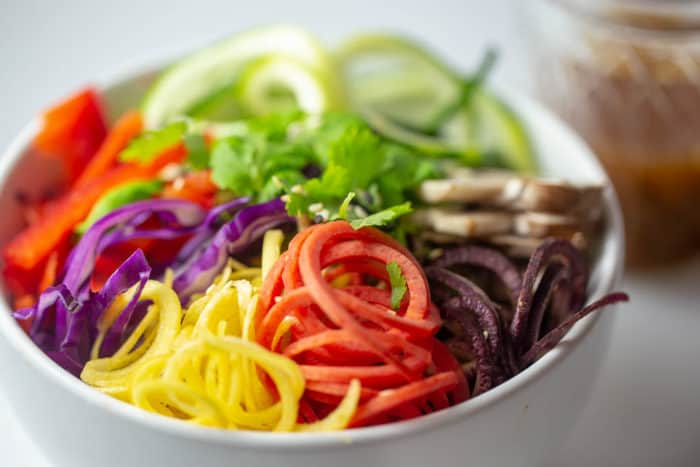 Feel free to mix up the veggies, of course. The dressing has fewer than 2 net carbs on its own and will work just as well with dark, leafy greens or with a bowl of cruciferous vegetables.
And holy smokes, this dressing. Spicy, tangy, and intensely umami, it's as delicious as it is easy to prepare.
Of course, I'm always trying to sneak flaxseed oil into everything but you can substitute any other oil you prefer or even water if you're keeping an eye on calories.
Macro Breakdown per serving (a serving is 1/2 the recipe)

315 Calories
Total Carbs 14g | Fiber 4g | Net carbs 10g | Protein 4g | Fat 19g

Always weigh and measure your own ingredients to ensure accurate tracking.
Ingredients
Dressing

1-1/2 tablespoons organic dark toasted sesame oil

1 tablespoon organic flaxseed oil

1 tablespoon organic apple cider vinegar

2 tsp organic Genmai miso or miso of choice

1 teaspoon organic tamari (can substitute soy sauce or coconut aminos)

1 tablespoon peeled and minced ginger

2 cloves garlic, peeled

Salad

1 medium organic zucchini, spiralized, julienned or chopped (about 200g)

2 cups organic red cabbage, thinly sliced (about 100g)

1/4 organic red bell pepper, thinly sliced (about 40g)

1 cup mushrooms, sliced (about 70g)

1/2 cup carrots, spiralized, julienned or chopped (about 50g)

1/4 cup organic cilantro, chopped
Instructions
Combine dressing ingredients in a small food processor or blender and blend until somewhat smooth. Taste and adjust the ingredients to your preferences.
Combine salad ingredients in a large bowl and toss with dressing. Divide between two bowls and serve.