This dressing is magic. We make it at least once a week rotating out the veggies in the salad. Lately, I've been swapping zoodles for shirataki noodles. I also tend to add a little extra raw garlic and some flaxseed oil for bonus nutritional goodness.
[nutrition protein="23″ carbs="14″ fat="48″ calories="315″]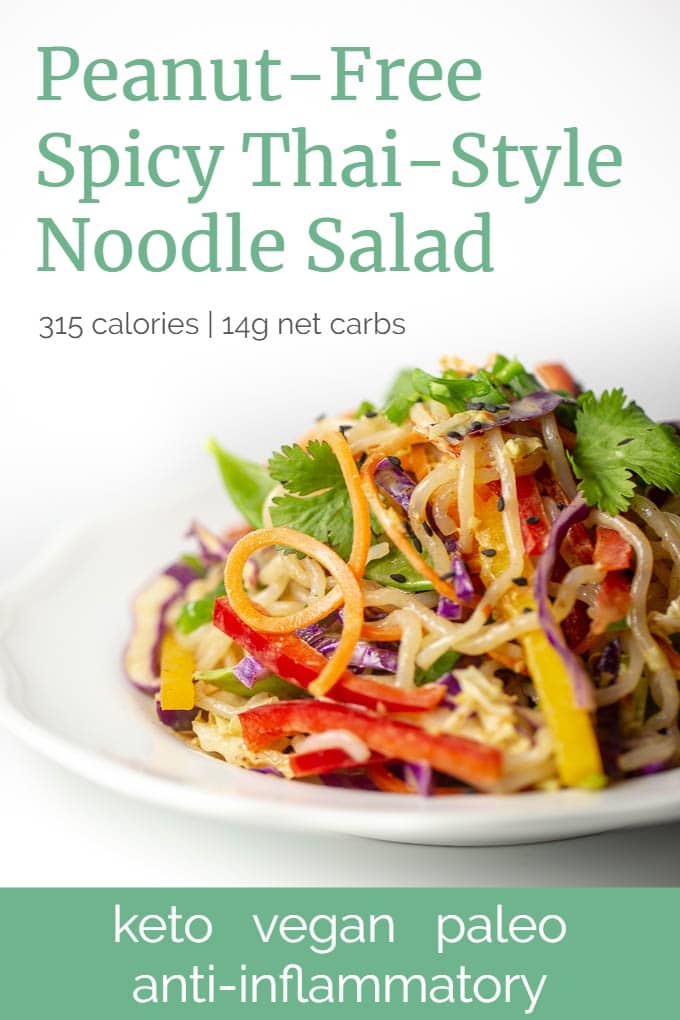 While peanut butter might be more traditional, I avoid legumes and find the almond butter is just as tasty. Use whatever you prefer. If you have a fancy, high speed blender you can add a heaping quarter cup of sprouted almonds instead of pre-made almond butter. We don't have the space in our tiny Hong Kong kitchen but I've been able to find a great raw, organic almond butter here make from sprouted organic almonds and nothing else.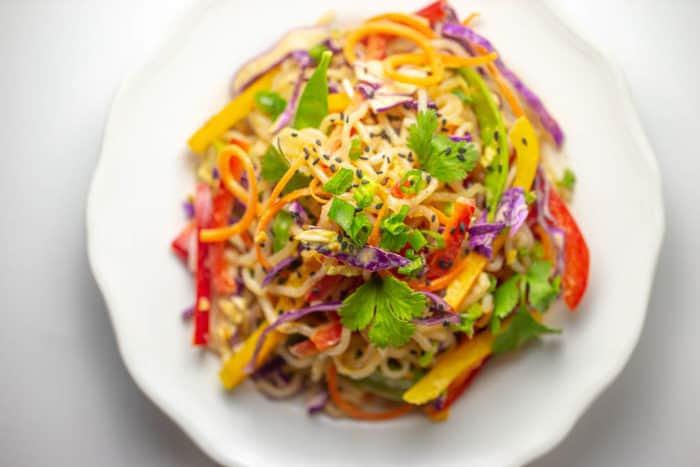 Play around with the veggies and dressing to make this your own. It would be fantastic with shredded chicken or shrimp. No matter how you adapt it, I have no doubt it will be a family favorite.
Macro Breakdown per serving (a serving is 1/2 the recipe)
315 Calories
Total Carbs 21g | Fiber 7g | Net carbs 14g | Protein 23g | Fat 48g
Always weigh and measure your own ingredients to ensure accurate tracking.
Ingredients
Dressing

1/4 c organic, raw sprouted almond butter (can substitute nut/ seed butter of your choice)

2 tbs organic tamari (can substitute soy sauce)

1 tbs organic toasted sesame oil

1 tbs apple cider vinegar (can substitute fresh lime juice)

2 cloves raw garlic

1 thumb-sized nub ginger root, peeled and coarsely chopped

2 tsp sambal oelek or sriracha, more or less to taste

Salad

1 7-oz bag organic shirataki noodles

2 cups organic red cabbage, shredded (about 100g)

2 cups organic napa cabbage shredded (about 100g)

1/2 organic bell pepper, thinly sliced (about 75g)

1/2 cup organic carrot, shredded or spiralized (about 50g)

1/2 cup snow peas (about 40g)

1/4 cup organic cilantro, chopped

1 tsp organic black sesame seeds
Instructions
Combine dressing ingredients in a food processor or blender and blend until smooth. Add 1-3 tbs distilled water to thin, if needed.
Thoroughly rinse shirataki noodles and combine with cabbage, bell pepper and snow peas. Toss with the dressing and divide between two bowls.
Garnish each bowl with 1/2 the cilantro and sesame seeds.