These salty, spicy almonds are such an excellent treat to have around the house or while traveling. They take a lot of time to make but virtually no active time. Just be sure to plan ahead when you make them to ensure they have time to soak and dry.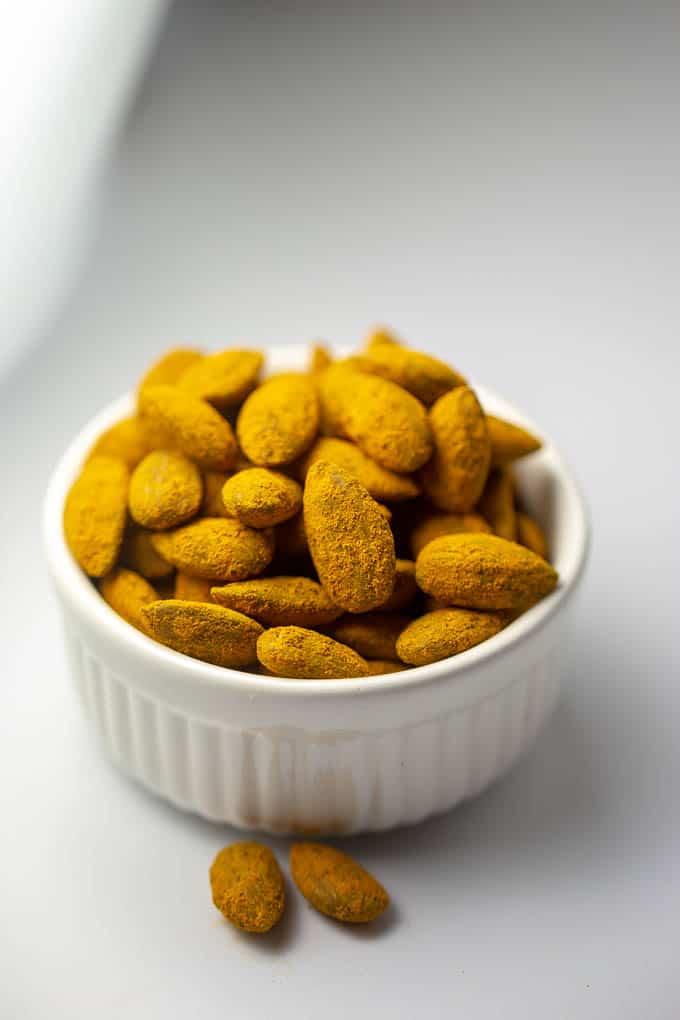 We make these in our food dehydrator 1) so we can take advantage of all the enzymes and nutrition in these nuts and 2) because we don't have an oven in our tiny Hong Kong apartment. Nevertheless, I'm sure these would work well dried out in a low temperature in the oven for a few hours.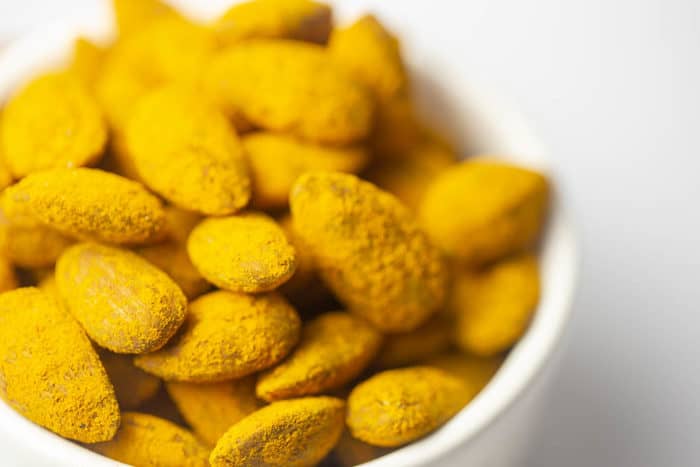 As with all the recipes on this blog, every ingredient was selected for its healing properties as well as its deliciousness.
Almonds
Almonds are wonderfully low carb and nutrient rich. They are one of the best dietary sources of vitamin E, manganese and magnesium. Additionally, almond skins are loaded with antioxidants.

Try to buy raw organic almonds for this recipe. Unfortunately, all almonds grown in the US are now required to be pasteurized so do the best you can with what you have.
You can soak the almonds in water for a day before soaking in the tamari to maximize nutrition. Soaking reduces the less beneficial elements like phytic acid and tannins while encouraging enzyme production and increasing bioavailability of the nutrients. However, be warned they if you do soak them in water first, the final product won't ever be quite as crunchy. It's up to you. I usually pre-soak about half the time.
Turmeric
Turmeric is a legendary cancer-fighting spice. There is some evidence that curcumin, a substance in turmeric, can kill cancer cells in certain cancers although more research is needed. It's also purported to have powerful anti-inflammatory and antioxidant effects.
While the curcumin content in turmeric is only 3%, it's generally advisable to get supplements from whole foods rather than extracts.
Black Pepper
A substance called piperine, found in black pepper, will increase the body's ability to absorb curcumin by over 2000%. Since curcumin is notoriously difficult to absorb, they should always be taken together when possible.
Tamari or Nama Shoyu
Tamari originated as a byproduct of the fermentation of miso. Nama Shoyu is a high-quality version of soy sauce which means it contains wheat and gluten. Both have a richer, less salty flavor than traditional soy sauce.

Both nama shoyu and unpasteurized tamari will still contain active fermentation cultures. I personally prefer the flavor, lower price point, and grain-free aspects of tamari but nama shoyu may have a nutritional edge for those who don't avoid grains.

This recipe uses a large amount of tamari to soak the almonds but just save the soaking liquid in the fridge for salad dressing and marinades – it's extra delicious after spending time with the almonds.
Salt
Depending on the saltiness of your tamari, you may not need much additional salt. However, pink Himalayan and Celtic sea salt are a good source of trace minerals. Also, those following a keto diet often need to supplement with salt so don't be too worried unless you have high blood pressure or have been advised by your doctor to limit salt intake.
Ingredients
2 cups raw, organic almonds

3/4 cup organic tamari, or enough to cover almond while soaking (can substitute nama shoyu or coconut aminos)

3 tbs organic turmeric powder

1 tsp freshly ground black pepper

Himalayan or Celtic sea salt, more or less to taste (optional depending on saltiness of tamari)
Instructions
Optional for increased nutrition, slightly decreased tastiness: Cover the almonds in filtered water and let soak 12 hours or overnight. Drain.
Cover almonds with tamari and let soak 12 hours or overnight, up to one day. Drain and reserve soaking liquid for dressings or marinades.
Spread almonds in a single layer in a food dehydrator. Dehydrate at 115 degrees Fahrenheit until almonds are dry and crisp, about 2-3 days.
Toss almonds with turmeric powder and freshly ground black pepper. Store in an airtight container in the fridge up to 1 week.