This has become Brad's and my daily lunch during the week. It's the perfect combo of delicious, wildly healthy, and easy to make. I'll occasionally make a double batch of the dressing and store it in the fridge for the next day. I mince so many garlic cloves for every meal it's really nice to have this dressing already prepped half the time. Note that pre-chopping the garlic will reduce the potency of allicin, however. Garlic is most beneficial when freshly chopped or crushed.
The other shortcut we've used in the past is pre-packaged greens. Organic Girl super greens work great. We're now lucky enough to have found an organic farm that delivers twice a week and is a little less expensive than the grocery store. Organic produce is pricey here in Hong Kong – heck, groceries in general are expensive – but still less than eating out.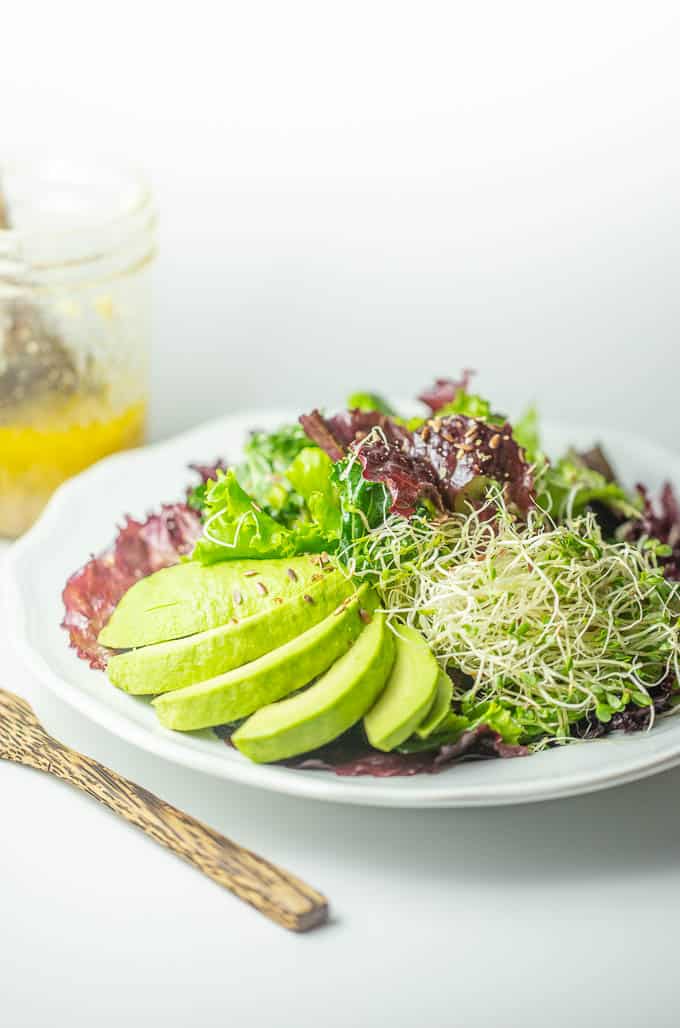 This recipe conforms beautifully to my philosophy of treating food as medicine and only putting healing things in my body. Each ingredient is incredibly good for health.
Flaxseed Oil is the best non-animal source of Omega-3 fatty acids and the cornerstone of the Budwig protocol. Although I don't fully subscribe to Budwig or follow the protocol, I do think her research into the benefits of this oil is very compelling. I add flaxseed to my food just about any chance I get.
Make sure to only buy organic flaxseed that has been stored in the market's refrigerated section as it can oxidize and turn rancid very quickly. Rancid oils can have a negative impact on overall health. For this same reason, you should never heat flaxseed oil and instead save it for dressings and sauces. Along those lines, make sure that your bottle has an expiration date and store it in your refrigerator.
Apple Cider Vinegar fans tout too many benefits to list for this vinegar. I'm primarily interested in its anti-inflammatory properties as inflammation is a known friend to cancer. I use Bragg's brand although any brand should be fine – look for something organic that contains the mother.
Raw Garlic has so many benefits! It's anti-bacterial, anti-inflammatory, anti-fungal, antioxidant and can reduce cholesterol and blood pressure while boosting the immune system. As mentioned above, it's most potent when freshly chopped or crushed. I aim for 2-4 raw cloves of garlic a day – even though that means over 10% of my daily carbs.
Dark, leafy greens, along with cruciferous vegetables, make up the majority of my diet by volume. These veggies provide so much nutrition for a very low carb count – carotenoids, chlorophyll, fiber, vitamins, minerals, iron, calcium, folate and loads of antioxidants. Darker colors generally indicate a higher concentration of goodness. Kale, spinach, arugula and red leaf are some of my go-tos. These are often found on the "dirty dozen" lists so it's worth it to find organic.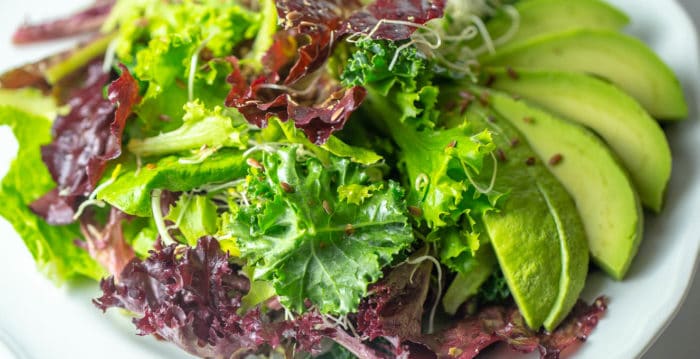 Broccoli sprouts are purported by many to be a top cancer-fighting food thanks to their high levels of sulforaphane. Sulforaphane inhibits the function of pro-carcinogens enzymes while promoting production of detoxifying enzymes. They're also yummy and packed with nutrients.
Avocados are packed with 20 vitamins and minerals , loads of antioxidants, and lots of good, monounsaturated fatty acids including oleic acid. Studies have show oleic acid is associated with reduced inflammation and can have beneficial effects on genes linked to cancer.
Flax seeds have all the benefits of flaxseed oil plus contain the lignans. Lignans are antioxidant rich polyphenols with anti-estrogenic effects that have been shown to reduce the risk of breast cancer. To take full advantage of their goodness, you want to chew them thoroughly or eat them ground. Just make sure you grind them fresh – most pre-ground flax seeds in stores are already rancid.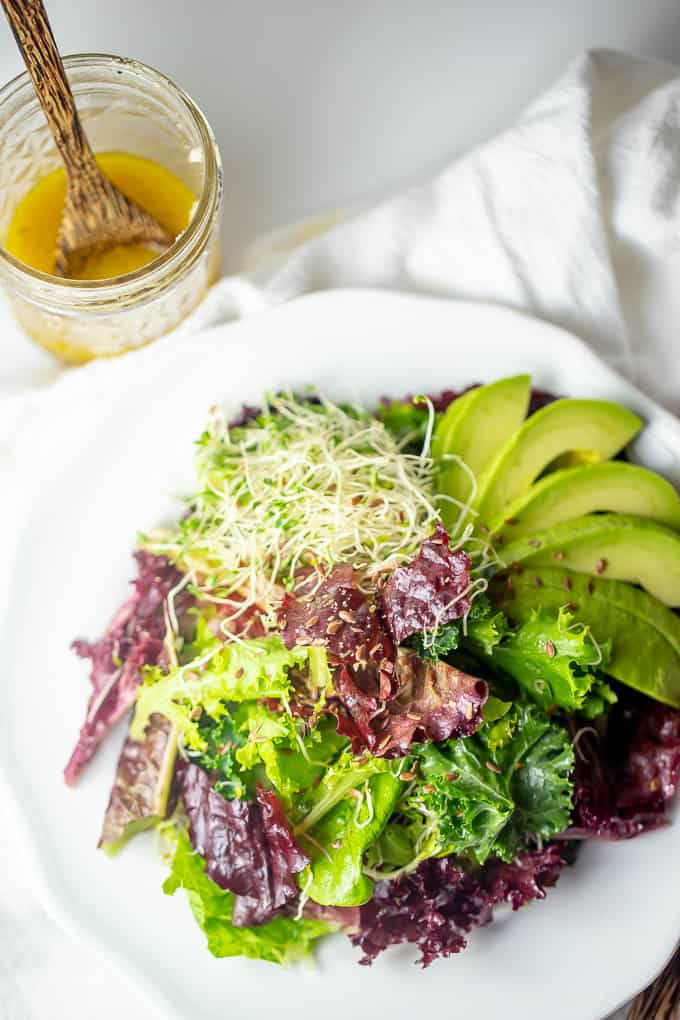 Add other veggies like tomato, bell pepper, zucchini, mushrooms, cucumber or whatever is on sale at the market to make this your own. Or top with some chicken breast, salmon, or hard-boiled egg for the meat eater in your life.
However you tweak it, it's a healthy, delicious addition to your menu rotation and an absolute at Chez Jones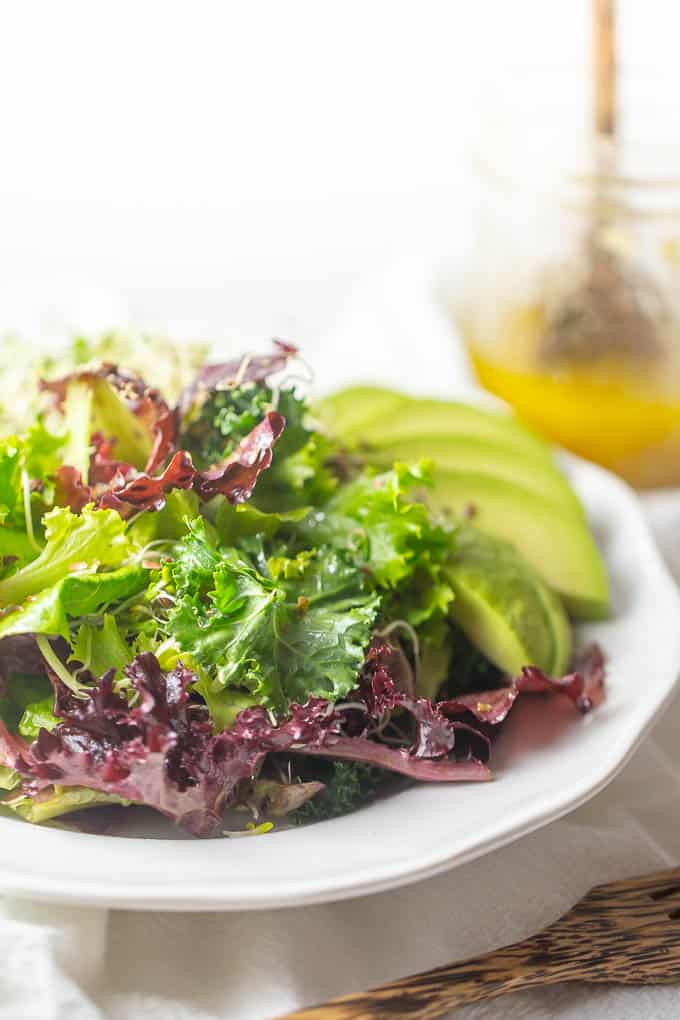 Nutritional Information/ Macro Breakdown:
275 calories | 12g carbs | 9g fiber | 3g net carbs | 5g protein | 22g fat
Ingredients
Flaxseed Oil Vinaigrette

2 cloves raw garlic, finely minced

2 tbs organic, cold-pressed flaxseed oil

2 tbs organic apple cider vinegar

1/2 tsp organic mustard, dijon or brown

Salad

5 c organic dark, leafy greens (kale, spinach, arugula, red leaf lettuce, etc)

1/4 c organic broccoli sprouts (can substitute alfalfa or other sprout)

1 avocado, diced

2 tbs organic flax seeds, divided
Instructions
In a small jar, combine minced garlic with flaxseed oil, vinegar and mustard. Shake to emulsify.
In a large bowl, toss dressing with mixed greens and sprouts. Divide between two bowls and top each bowl with half the diced avocado.