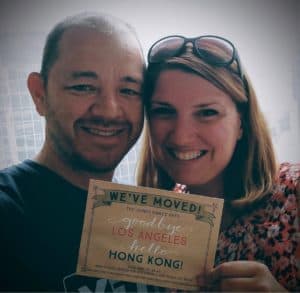 My husband and I moved from Los Angeles to Hong Kong one week before my 40th birthday. We were ready for a new adventure and keen to experience more of the world.
One month later I was diagnosed with Stage IVB non-small-cell lung cancer that had metastasized to my brain and eye along with multiple lymph nodes throughout my chest and neck.
The prognosis for lung cancer that's spread to the brain is not good. Average life expectancy with treatment is reported as 6-8 months and the 5-year survival rate is less than 1%. At first I jumped right to the "acceptance" stage of grief and started getting my affairs in order. That only lasted a few days before I realized that such a dire outcome didn't really apply to me. Specifically:
The average age for folks being diagnosed with lung cancer is 71. 
By definition, 5-year survival rate only takes into account people diagnosed over 5 years ago.  There have been so many advances in cancer treatment since then.
People do survive this and, if anyone can do it, I can. One thousand is 0% of one million.
Taking responsibility for my own healing
My health was deteriorating quickly so I immediately started reading everything I could get my hands on relating to cancer and treatment options. I have a lot of faith in conventional medicine but am aware it has limitations. Through my research I became familiar with a huge variety of options across the spectrum ranging from well-accepted, evidence-based science to reeking-of-bullshit quackery. I'm especially intrigued by what falls in-between: potential treatments that are backed by solid science but for which "there is no scientific evidence" they work because the research simply hasn't been done or done correctly.
One recurring theme of my recovery journey has been the importance of taking responsibility for my own health. This was perfectly illustrated early in treatment when I specifically asked my oncologist about potential interactions with my targeted therapy and another medication I was taking. He told me not to worry. Later, when I experienced side effects and did research on my own, I confirmed that I should not have been taking those pills together. My first reaction was anger at my oncologist but I quickly realized the miss was on me. I am ultimately responsible for my treatment and I shouldn't take anything I don't personally, fully understand. I respect and take advantage of my doctors' expertise have but ultimately it's up to me to beat this cancer.
Rocking cancer's face
This blog started as a way to keep friends and family updated and quickly evolved into a repository of the many tools I'm using to kick cancer's ass. I'm wildly fortunate to be recovering so quickly and I hope this information will be helpful to others folks out there.
More About Me